Microsoft Azure Administrator AZ - 104 Certification Online Training
Learn Azure Online Certification Training & Become Expert in Cloud Computing
Trained 15000+ Students | 40+ hrs course duration |
15+ hrs assignment duration | Exams conducted after topic completion
Course Duration : 8 Weeks
Certification & Job Assistance
Our Industry Expert Trainer
Join our Instructor-Led Online, interactive session, Learn from
Certified working experts.
Azure Administrator - 104 Certification
About Microsoft Azure - Administrator - AZ-104 Certification
Microsoft Azure - Administrator – AZ-104 certification is an entry-level certification that helps enter the Azure cloud services market as an Azure administrator. Microsoft provides this certification after assessing the below skills of an individual.
Creating and managing users in the Active Directory of the Azure Cloud environment.
Creating custom roles for different users according to their responsibilities.
Managing subscription access to users.
Managing the expense and budget using the Cost Management module in Azure.
Creating and Managing Data Storage account in Azure.
Uploading or managing any data file using Storage Explorer
Managing the security of Data in Azure. 
Deploying and Configuring resources for computing in the Azure cloud environment.
Deploying and Configuring the Containers and Web-apps in Azure cloud environment.
Configuring, Managing, and Securing network services in the VM's installed on Azure Cloud environment.
Monitoring and Troubleshooting the Network infrastructure using Network monitoring tools.
Configuring and Managing protection and delivery of applications.
Monitoring of resources available in Azure.
Taking backup and recovery of all available resources in Azure.
Why should you get MS Azure AZ-104 certification?


As the use of cloud among different business domains is on the rise, so is the migration of existing platforms to MS Azure cloud too. This has given an increase in the demand for Azure certified professionals in the field today.
MS Azure AZ-104 certification is an exam conducted by Microsoft to assess the candidate's knowledge as an Azure Administrator. This certification tells the employer that the concerned candidate can handle managing and configuration tasks related to the Azure cloud environment. The certified professional can handle security-related concerns, the core services & workload in Azure, and Azure's governance.
This Microsoft AZ-104 certification is a complete package of learning for people planning to upskill and looking for a salary hike in their existing profile. 
Benefits of Microsoft AZ-104 certification


With the changing and adoption of new technologies, Microsoft Azure cloud has gained a sharp demand from consumers. It now occupies almost 20% of the market available for Cloud services.
The companies using Microsoft Azure services need a certifying Azure Administrator to manage, deploy, and operate the Azure cloud environment's computing resources and virtual network. They are also responsible for managing the companies infrastructure in the cloud environment. This is a crucial role for any progressing company.
This has resulted in more openings for certified Azure Administrator. Today, around 22K jobs are available for Microsoft Certified Azure Administrator in India alone.

Why Choose 3RI Technologies for Azure AZ-104 training?


3RI Technologies is a leading training institute that offers an online and offline training program that will prepare you to appear for Azure Az-104 certification exams.
The trainers conducting this program have 10+ years of working experience with reputed companies and managing their Azure cloud infrastructure. They are Microsoft certified instructors, working hard to explain every complicated concept. The online is a LIVE interactive class led by instructors that helps in continuous discussions between the instructor and students. 
3RI Technologies offers several batch options for weekdays and weekends, giving the student a suitable batch choice. In case, due to some difficulty, the student misses a class, they can attend the same batch that will happen in the coming weeks. Also, you can go through the recording of the LIVE class. All your doubts can be cleared during the LIVE class itself. 
Every class will have quizzes and assignments as a part of the daily routine to constantly track each student's progress. Almost 50-75% of our class focuses on hands-on for better learning and implementation of every concept. Also, we pick up LIVE projects directly from IT companies to expose our students to real working scenarios.
We have trained 1000's students, and they are successfully placed at Fortune 500 companies through our dedicated placement team.
Key Features of Microsoft Azure Training
Hands on Experience on One Live Project.
100 % Placement Assistance
Resume Preparation
Interview Preparation
Missed Sessions Covered
Multiple Flexible Batches
Practice Course Material
DURATION:
PREREQUISITES :
Basic understanding of networking concepts, virtualization, after beneficial
WHO CAN JOIN THIS COURSE?
Database Administrators
IT Professionals and Developers
Windows Server Administrators
40 to 50 Hour Course Duration
Extra Activities, Sessions
Microsoft Azure - Administrator - AZ-104 certification Syllabus
Best-in-class content by leading faculty and industry leaders in
the form of videos, cases and projects, assignments and live sessions
Module 1: Introduction to Cloud
Define cloud computing
Cloud computing Infrastructure
The requirements need to be fulfilled to qualify as a cloud service
Cloud service and deployment models
Common misconceptions about cloud computing
Common cloud Implementations
Benefits of Cloud
Architecture discussion
Lab Preparation
Module 2. Microsoft Azure Basics
Introduction to Azure
What is SaaS, PaaS, and IaaS
Azure Regions and Data Centers
Understanding of Microsoft Azure portal
Introduction to all Azure services
Windows Azure Subscription
Managing Azure Subscriptions and Resources
Module 3. Deploying and Configuring Infrastructur
Virtual Machine instances
Deploying and Managing Virtual Machines (VMs)
Configuring and Managing Virtual Networks
Azure VM types and Pricing
Types of Provisioning
Disks & Images
Virtual Machine management, automation, and scripting
Cloud Service and Resource Model Deployment
Implementing and Managing Storage
Module 4. Introduction to Azure Virtual Network and Services
Types of Azure Virtual Network VNET to VNET, point-to-site and site-to-site, Express Route.
Creating Virtual Networks in Azure
Azure Subnet and IP ranges
Endpoints
Load Balancing Endpoints
Understanding Network ACL and Network Security Group Setting up Private and Public IP
Hands-on Lab: Create a VET-to-VNET virtual network
Hands-on Lab: Create a point-to-site virtual network
Introduction to Azure Traffic Manager
Available options in Azure Traffic Manager
Understanding of Deployment Traffic Manager
Hands-on Lab: Load Balancing using Azure Traffic Manager
Module 5. Microsoft Azure Storage
Overview of Microsoft Azure Storage
Azure Storage Account
Azure Storage Blobs
Control Access to Storage Blobs and Containers
Storage Account Replication Techniques
Type of Azure Storage Account
Storage Services Blob, Table, queue, File
Module 6. Implement an Azure Active Directory
Active Directory Fundamentals
Implement Azure AD Connect
Multifactor Authentication
Add custom domains
Monitor Azure AD
Configure single sign-on with SaaS applications
Users and Groups Provisioning
Configure federation
Implement Azure AD integration in web and desktop applications
Create an Azure AD B2C Directory
Implement B2B collaboration Configure partner users
Integrate with applications
Azure AD data sync
Role-based Access Control
ADFS and Azure Access Control Service
Hands-on Lab: Authentication On-Premise app using Azure AD
Overview and Available features and Media Services
Azure Notification Hub Services
Module 7. Azure SQL Database
Introduction about Azure SQL, Difference between SQL server and Azure SQL
Advantage and Benefits of SQL database Scaling SQL database
Backup and Performance Options Security in Azure
SQL Pricing Model
Understanding Web App tiers
Understanding of Web Job Pricing, Security, Monitoring
Resource Group and Web Hosting Plans in the New Preview portal
Supported language
Deploying a Web App
Deployment sources
Hands-on Lab: Create, Deploy, Manager
Deployment
Benefits
Roles in Azure Cloud services
Web Role and Worker Role
Understanding Fault Domain and Upgrade Domain
Deployment pipeline
Module 9. Azure Backup and Site Recovery
Azure Vaults
Configuring backups
Data Protection Manager
Azure Site Recovery and Disaster Recovery
On Premise Migration using Recovery Services
Hands-on Lab: Configure a vault and backup a server from from on premise to cloud On-Premise to on premise On-Premise to Azure.
Learn through real-life industry projects sponsored by top companies
across industries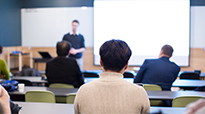 Dedicated Industry Experts Mentors
Receive 1:1 career counselling sessions & mock interviews with hiring managers. Further your career with our 300+ hiring partners.
Azure - Administrator - AZ-104 Online Training Batch Schedule
7-Nov-20 | SAT-SUN | 8:00 AM to 10:00 AM
21-Nov-20 | SAT-SUN | 8:00 AM to 10:00 AM
23-Nov-20 | Mon-Fri | 7:00 PM to 8:30 PM
Timings Doesn't Suit You ?
We can set up a batch at your convenient time.
Microsoft Azure - Administrator - AZ - 104 certification Certification
What are the requirements to unlock my Microsoft Azure - Administrator - AZ-104 certification 3RI Technologies Certification?
What is the validly for this Microsoft Azure - Administrator - AZ-104 certification from 3RI Technologies?
Is this Microsoft Azure - Administrator - AZ-104 Certification 3RI Technologies certification accredited in the current industry?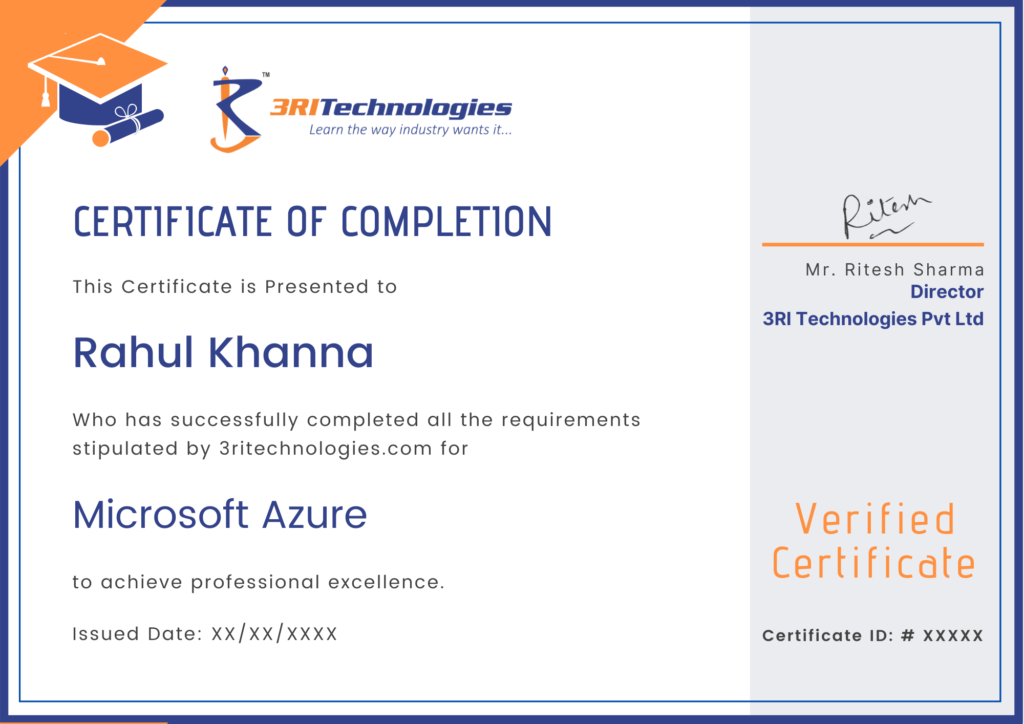 Frequently Asked Questions
1. What are the Course Objectives?
Managing the identities and governance in Azure.
Implementing and Managing Data storage services in Azure.
Deploying and Managing Computing Resources of Azure.
Configuring and Managing the Virtual networks in Azure.
Monitoring the backup and taking Recovery of resources in Azure.
2. Who Should Attend Microsoft Azure - Administrator - AZ-104 certification?
Any IT professional who plans to start working as an Azure administrator can think of attending this training course. This training course will also help you in appearing for the exam AZ-104.
3. Pre-requisites for Microsoft Azure - Administrator - AZ-104 certification
Any IT professional who has some basic knowledge of the Azure cloud environment can pursue this training to become a certified Azure Administrator. Anyone who has some IT background and wants to lay their grounds as an Azure administrator can pursue this training program and earn the certification by giving the exams.
4. What you will learn in this certification course?
Brief introduction of Azure cloud services.
Creating and configuring a virtual machine in Azure.
Managing the Resource Groups and Subscriptions in Azure.
Designing, Implementing, and Deploying Identity Management in the Azure cloud.
Defining and Managing roles for different users in Azure.
Managing Data storage in Azure.
Studying the Advanced features of Virtual Machines in Azure.
Understanding Security features in Azure.
Deploying and Modifying templates for Resource Manager in Azure.
Creating and Deploying containers and Applications in Azure.
Working with Azure Networking and Load Balancing.
Monitoring and Implementing backup and recovery systems in Azure.
Designing of computing infrastructure in Azure.
5. How long will it take to complete Microsoft Azure - Administrator - AZ-104 certification?
The course duration is 30-50 hours, including the practical projects and assignments implemented in the Azure cloud environment. Additionally, 10 hours may be required to prepare for the Multi-choice exams to earn MS Azure Az-104 certification.
6. What are the job roles offered after completion of AZ-104: Microsoft Azure Administrator Certification?
After completing Az-104 certification, any candidate can start working as an Azure administrator for different companies using Azure cloud infrastructure. This can also be a stepping stone to work as an Azure DevOps Engineer in the future. 
The average annual salary that can be earned by Azure Administrator is $125K in the U.S.A.
I'm Interested in This Program
Azure Administrator Online Course Testimonials
Azure training at 3RI Technologies has helped me to start my dream path. The instructor delivered conceptual knowledge and practical guidance at every stage. I am now able to accelerate my career growth. Their team helped me with technical as well as non-technical training like working on my soft skills. I suggest people join 3RI Technologies for a successful career in Azure.
3RI Technologies gave me the option to select from various batch options. So I could learn according to the availability of my free time. The instructors helped clear all my doubts even if they were too silly. They perfectly fulfill their motto of Quality education for all. If you are looking for Azure training, join them for the best course at reasonable fees.
Azure training at 3RI Technologies opened the door to several new opportunities. Their course is 100% value to the fees I paid them. The instructors were helpful to clear all the concepts. They would make sure they proceed to the next topic only after the current topic is clear to us.