Learn AI from industry experts
Education With a Great Help of Trained Professionals
The best Artificial Intelligence Training in Pune offered 3RI Technologies, which can be an outstanding choice to make. At 3RI Technologies, there are certified Artificial Intelligence professionals to give you the best and knowledgeable training.
Artificial Intelligence came into existence when people started taking an interest in automated technologies and ventures. The Greeks had legendary tales about robots, the Chinese and the Egyptians also had accomplished some headway around there. Artificial intelligence is constantly progressing at a fast rate as organizations are finding better approaches to receive the rewards of this innovation to mechanize forms, increment efficiency, and diminish cost.
From the recent few years, the use of Artificial Intelligence has increased to the next level, which has also increased the demand for AI professionals. But candidates often struggle in searching for the best training institute for Artificial Intelligence in Pune. Pune is full of AI training institutes, but choosing the most reliable training institute is one of the most important factors.
Artificial Intelligence ranks first in the top 10 list of best technologies to learn in IT Industry 2020
Artificial Intelligence Course in Pune
3RI Technologies is one of the most renowned institutes which has a placement partnership with top companies like IBM, Infosys, Wipro, Syntel, Cognizant, and more.
Through our long journey of ability in this area, we furnish our students with continuous task-based preparation that will make you adroit at AI, similar to experts and professionals. Apart from that, 3RI Technologies gives you the 100% placement guarantee with the best jobs in the top and renowned companies in the IT industry. Time to time tests is taken of every student to test the knowledge and understandings of the students for better training understanding and improvise if needed.
3RI Technologies has its branches located in Pune's top localities keeping in mind everyone's convenience. To avail of the course, please drop by at 3RI Technologies today.
Overview

Features

Syllabus

FAQ
All about Artificial Intelligence
When smart systems like computers are capable of executing intelligent errands with the use of advanced technologies, the course termed artificial intelligence. It clearly means that AI i.e., Artificial Intelligence is a branch of science where the machines demonstrate intelligence in the same way as animals and humans do. Artificial Intelligence course in Pune is high in demand in today's world. By understanding the concepts of artificial intelligence, you can easily automate the machines and assign the work brilliantly the same as humans do. Now, wouldn't that be too stunning to even think about ignoring? All things considered, why not! In this way, don't make delays, support your CV hundredfold by taking in an AI course from some presumed AI training institute in Pune, and land to the position you had always wanted. The first step towards understanding Artificial Intelligence is to take the best Artificial Intelligence course in Pune at 3RI Technologies. Without any doubt, 3RI Technologies is one of the best Artificial Intelligence training centers in Pune. 
In another and short words, artificial intelligence is a science-based concern that used to build smarter machines that are capable enough to take the tasks given that specifically require human intelligence.  AI is one kind of inter punitive technology that can handle countless approaches at once. Still, the headways in AI and profound learning are making a change in perspective in essentially every division of the tech business.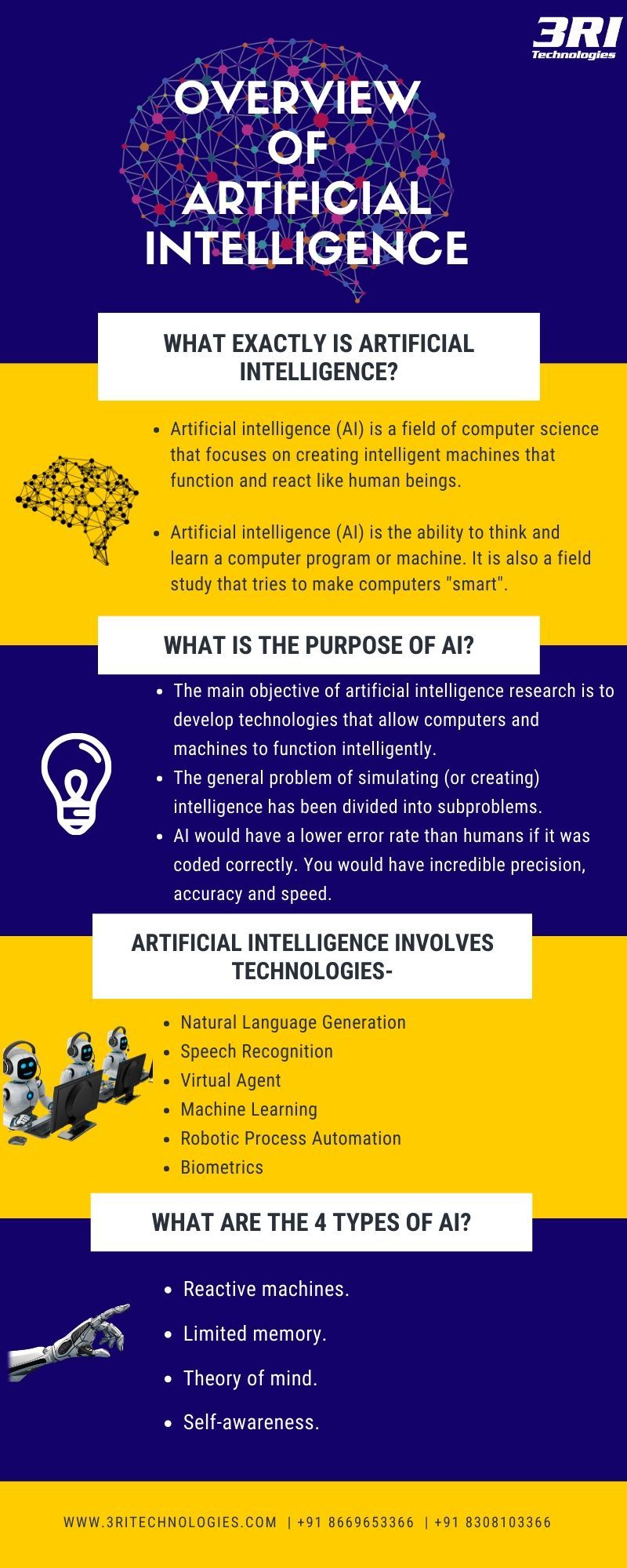 How does AI Work?
Soon after breaking the machine of Nazi encryption machine Enigma and after supporting the forces to prevail in the second world war, the famous mathematician named Alan Turning turned the history by asking one simple question, which was "Can Machines Think? Soon enough, in the later 1950s, the concept of Artificial Intelligence was born. Now let's get to how exactly this smart thing works. Man-made consciousness gathers more frontpage features each day. Artificial Intelligence, or AI, is the innovation empowering machines to gain for a fact and perform human-like undertakings. 
Ping-ponging among idealistic and tragic, suppositions differ uncontrollably with respect to the present and future applications, or more awful, ramifications, of Artificial Intelligence. Without the correct moorings, our psyches will, in general, float into Hollywood-produced waters, abounding with robot transformations, self-governing vehicles, and next to no comprehension of how AI really functions.
How is Artificial Intelligence Used?
AI usually followed under 2 of the broad categories which are listed below:
Narrow Artificial Intelligence: This type of artificial intelligence, also referred to as a Weak AI. This type of AI tool works in a very limited context, which is also an imitation of human intelligence. This type of AI usually focused on handling a singular task in a great manner 
Artificial General Intelligence: 
AGI or Artificial General Intelligence is also known as a Strong AI, which is a type of AI we watch in the cinemas. For example, the robots in the Westworld or the data from star trek. This type of AI works super intelligently and can be used to solve any kind of problem, the same as humans do. 3RI Technologies all such types of Artificial Intelligence modules. To avail of the course, please drop by at 3RI Technologies today.
Benefits of Artificial Intelligence
The Compass and Scope of Artificial Intelligence (AI)
We all have heard a lot about Artificial Intelligence and its brilliance till now. But do we know what exactly artificial intelligence is? Let us dig deeper into the topic and understand what artificial intelligence exactly is. Artificial Intelligence is something that primarily used for solving problems that are as effective as human's problem-solving ability.
The scope for all the AI certified professional experts are in fields like expert systems, robotics, game playing, developing speech recognition machines, language detection machine, the vision of computers, and much more. The AI industry is moving like a rocket and taking various bright turns day by day, and the scope of the AI professionals is flourishing and tremendously bright. The first step towards understanding AI is to taking Artificial Intelligence training in Pune is one of the reputed and most reliable training centers. Candidates can complete their Artificial Intelligence course in Pune at 3RI Technologies.
After successfully completion of this course at 3RI Technologies, the training institute will provide all its candidates with an authorized AI course completion certificate while will take your career to the next level with flying colors. You can also avail the best job roles after completing the course at 3RI Technologies. Effective Job roles will be like, Robotic scientist, Software Engineer, Game Programmer, Smart-machine Interaction Modeler, Machine Relations Manager, Transparency Analyst, Computer Scientist, and many more. With the new and advancing technology in Artificial Intelligence, new job roles established, which are into Automation Economics, Automation Ethicist, Context designer, and much more. 
Keeping in kind and understanding all the advancements of the new job opportunities established by this brilliant technology, this can be a perfect point of interest for the enthusiasts to seek Artificial Intelligence Training in Pune, especially at 3RI Technologies. 3RI Technologies is one of the most well known and an expert AI training institutes in Pune, providing course certification, best and professional AI course teaching staff, 100% placement guarantee with superbly cost-effective course fees. Come and drop by today to avail of the course. 
Artificial Intelligence Salary in India
According to PayScale, Salary for Skill: Artificial Intelligence (AI) is average 1 million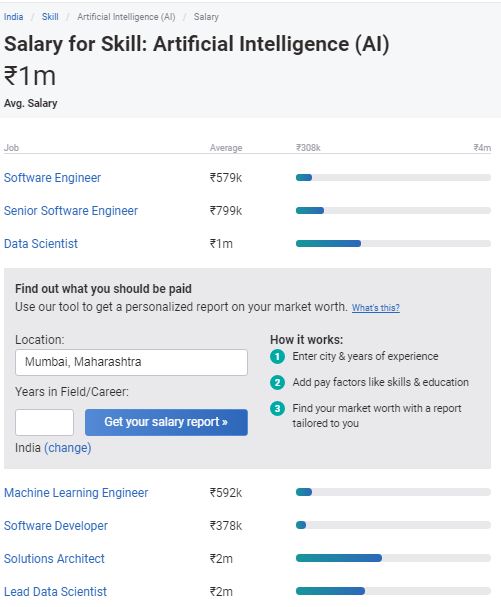 Objectives of Artificial Intelligence Course
The objectives of the Artificial Intelligence Course in Pune are many, so let us get through the topic and understand all about Artificial Intelligence and its objectives. The first step towards understanding the Artificial Intelligence is to take an ultimate Artificial Intelligence training in Pune at 3RI Technologies. There are many training institutes who offer Artificial Intelligence courses in Pune but getting the perfect Artificial Intelligence training center for you is quite challenging these days. Learn all about the Artificial Intelligence Course in Pune at the most reliable and trusted training institute at 3RI Technologies with 100% placement assured training and with the best teaching professionals. This job assured training will make you knowledgeable in the Fundamentals of Artificial Intelligence, Learning the historical backdrop of artificial intelligence, essential innovation knowledge, and examples of utilizing AI, through our hands-on preparation. Apart from all this, 3RI Technologies also provides you with a cost-effective Artificial Intelligence course as compared to the other training institutes. 
What are the ultimate objectives of taking an Artificial Intelligence Course
Procure information about your system improvement of Artificial intelligence along with all the project support. 
Get an in deep comprehension of how to utilize Artificial intelligence. 
Get a good idea of the mechanism of Artificial intelligence and its practical application through real-time training.
Get a smart thought on the working and mechanism of Artificial intelligence knowledge and its practical application through an ongoing training course.
Why choose Artificial Intelligence Training with Certification?
If you desire to get the fundamental knowledge about Artificial intelligence. (for instance, the marketing department, management, planning department and so on.).
If you are keen on the matter of Artificial knowledge
If you are an IT engineer who is keen on AI
If you might want to propose AI to improve your career prospects
If you desire to get the fundamental knowledge about Data Science Training for Data Scientist career
If you desire to get the Complete knowledge of Python Training which comes in the syllabus of AI 
What are the requirements to avail of the Artificial Intelligence Certification Training?
The one who has a basic knowledge of computers.
Experience in development of system utilizing programming language (suggested)
Will you get the essential support after successfully completing the Artificial intelligence course?
Without a doubt. All your specialized questions can be cleared with every minute of everyday life help. You can rehash the classes you've not comprehended well.
Come drop by at 3Ri Technologies today and unlock all the incredible courses for yourself today or simply give us a call and our expert team shall provide you with the best guidance. 
1. Artificial Intelligence
An Introduction to Artificial Intelligence

History of Artificial Intelligence

Future and Market Trends in Artificial Intelligence

Intelligent Agents – Perceive-Reason-Act Loop

Search and Symbolic Search

Constraint-based Reasoning

Simple Adversarial Search (Game-Playing)

Neural Networks and Perceptions

Understanding Feedforward Networks

Boltzmann Machines and Autoencoders

Exploring Backpropagation
2. Deep Networks and Structured Knowledge
Deep Networks/Deep Learning

Knowledge-based Reasoning

First-order Logic and Theorem

Rules and Rule-based Reasoning

Studying Blackboard Systems

Structured Knowledge: Frames, Cyc, Conceptual Dependency

Description Logic

Reasoning with Uncertainty

Probability & Certainty-Factors

What are Bayesian Networks? 

Understanding Sensor Processing

Natural Language Processing

Studying Neural Elements

Convolutional Networks

Recurrent Networks

Long Short-Term Memory (LSTM) Networks 
3. Machine Learning and Hacking
Machine learning

Reprise: Deep Learning

Symbolic Approaches and Multiagent Systems

Societal/Ethical Concerns

Hacking and Ethical Concerns

Behavior and Hacking

Job Displacement & Societal Disruption

Ethics of Deadly AIs

Danger of Displacement of Humanity 

The future of Artificial Intelligence
4. Natural Language Processing
Natural Language Processing 

Natural Language Processing in Python

Natural Language Processing in R

Studying Deep Learning

Artificial Neural Networks

ANN Intuition

Plan of Attack

Studying the Neuron

The Activation Function

Working of Neural Networks

Exploring Gradient Descent

Stochastic Gradient Descent

Exploring Backpropagation
5. Artificial and Conventional Neural Network
Understanding Artificial Neural Network

Building an ANN

Building Problem Description

Evaluation the ANN

Improving the ANN

Tuning the ANN

Conventional Neural Networks

CNN Intuition

Convolution Operation

ReLU Layer

Pooling and Flattening

Full Connection

Softmax and Cross-Entropy 

Building a CNN

Evaluating the CNN

Improving the CNN

Tuning the CNN
6. Recurrent Neural Network
Recurrent Neural Network

RNN Intuition

The Vanishing Gradient Problem

LSTMs and LSTM Variations

Practical Intuition

Building an RNN

Evaluating the RNN

Improving the RNN

Tuning the RNN
7. Self-Organizing Maps
Self-Organizing Maps

SOMs Intuition 

Plan of Attack

Working of Self-Organizing Maps

Revisiting K-Means

K-Means Clustering

Reading an Advanced SOM

Building an SOM
8. Boltzmann Machines
Energy-Based Models (EBM)

Restricted Boltzmann Machine

Exploring Contrastive Divergence

Deep Belief Networks

Deep Boltzmann Machines

Building a Boltzmann Machine

Installing Ubuntu on Windows

Installing PyTorch
9. AutoEncoders
AutoEncoders: An Overview

AutoEncoders Intuition

Plan of Attack

Training an AutoEncoder

Overcomplete hidden layers

Sparse Autoencoders

Denoising Autoencoders

Contractive Autoencoders

Stacked Autoencoders

Deep Autoencoders
10. PCA, LDA, and Dimensionality Reduction
Dimensionality Reduction

Principal Component Analysis (PCA)

PCA in Python

PCA in R

Linear Discriminant Analysis (LDA)

LDA in Python

LDA in R

Kernel PCA

Kernel PCA in Python

Kernel PCA in R
11. Model Selection and Boosting
K-Fold Cross Validation in Python

Grid Search in Python

K-Fold Cross Validation in R

Grid Search in R

XGBoost

XGBoost in Python

XGBoost in R