DevOps Online Training and Certification
Learn DevOps Online Certification Training & Become Expert
Trained 15000+ Students | 40+ hrs course duration |
15+ hrs assignment duration | Exams conducted after topic completion
Course Duration : 8 Weeks
Certification & Job Assistance
Our Industry Expert Trainer
Join our Instructor-Led Online, interactive session, Learn from
Certified working experts.
DevOps Online Course Overview
About DevOps Online Course
DevOps defines a practice and set of processes that lead development services and operations teams collectively to build software development. DevOps allows all the related organizations to create, manage, and promote products faster than traditional software development approaches. And that is the reason why DevOps is much more in demand in the present IT industry.
Companies are keen to take advantage of faster application delivery, enhanced discovery, more steady operating conditions, and performance-oriented employee teams. Hence, 3RI Technologies has designed its DevOps Online training program in a way that helps you to understand everything, starting from the basics. It also sharpens on a structured learning path, advised by renowned industry experts. After completing this online DevOps training course, you will receive a certificate with grades analyzed according to your throughout the course's performance.
As DevOps Engineers are highly paid and are in demand, especially in finance, retail, technology, and eCommerce, you can take this opportunity by registering with us for this course. This will add a plus point in your resume, and you will also upgrade your skills and knowledge, which will indeed promote you to the next professional level.

What is DevOps?
The name DevOps was derived with the combination of 'development' and 'operations.' It indeed acts like the bridge provider between the user, process, and technology to continually grant value to the clients and the customers. DevOps enables earlier roles i.e., Development, Quality Engineers, IT operations & security, to collude and regulate to produce more trustworthy and more reliable products. Adapting DevOps training will help you hone your DevOps skills in all its tools, features, methods, and terms, which providers you the knowledge to satisfactorily respond to the entire client's needs and develop confidence in the applications you build.
DevOps leads the application lifecycle thoroughly its plan, develop, deliver, and operate stages. Here every stage is connected and relies on all the other stages in the same model or application. In a right DevOps culture, each role is included in each phase to some extent.
Key Features
Certified Online Course
Flexible Timings
Interactive sessions
24/7 Support & Access
Real-time Project Experience
Additional sessions of self-development
DURATION:
PREREQUISITES:
Basic knowledge of Linux
Basic knowledge of SDLC
Familiarity with multi tier architectures
WHO CAN JOIN THIS COURSE?
Developers and Testing Professionals
Systems Administrators, Support Engineers
Project Managers and Architects
40 to 50 Hour Course Duration
Extra Activities, Sessions
DevOps Online Course Syllabus
Best-in-class content by leading faculty and industry leaders in
the form of videos, cases and projects, assignments and live sessions
Module 1:DevOps Introduction
What is DevOps?
Why DevOps is needed?
DevOps Transition ?
Technical Challenges
DevOps Market Trends
Various DevOps Tools
DevOps pipelines
Module 2:Basic Linux and Networking Concepts
Architecture and Filesystem of Linux
Linux Bash Commands
Managing Services on Linux
User and Group management
Filesystem usage.
IP assignment and Service Ports
Installing and Configuring Apache
Module 3: Cloud Computing with AWS
Fundamentals of Cloud Computing
Introduction to AWS
AWS Cloud – EC2, Security Groups, Amazon Machine Images
Key Management, Elastic & Public IP
IAAS PAAS SAAS,S3,Roles,Policies etc.
VPC creation and understanding Networking in AWS
Hypervisor, Baremetals, KVM,XEN
Why Cloud is required for DevOps
AWS – Defining EC2 Instances
Introduction to ELB, CDN, Auto Scaling
Module 4: Shell Scripting
Understanding fundamentals of Software Programming
Scripting Introduction
Shell Scripting – Learning to automate Operating System
Module 5: Source Code Management and Version Control
Source Code Management using GitHub
History of version control systems
Centralized vs Distributed version control system
Source Code Management System using GitHub
Working on Git Command Line and GitHub GUI
Cloning and check-in and committing. Repository creation etc
Build Tools (Maven/Graddle)
Understanding Branching, Merging, Forking, pull etc
Module6: Continuous integration with Jenkins
Jenkins – Installation
Jenkins – Configuration
Jenkins – Management
Jenkins – Setup Build Jobs
Integration of JENKINS with GIT
Integration of Maven with Jenkins
Jenkins Dashboard
Remote Builds and user management in Jenkins
Understating Plug-ins and dependency
Pipeline Creation using Jenkins for CI
Jenkins – Testing
Module7: Chef and its Component
Chef: Introduction
Chef: knife
Chef: knife demo
Chef: knife with chef-server
Chef: Roles
Module 8: Continuous Monitoring with Nagios
Host Monitoring using Nagios
Installation
Nagios Coding Language
Windows Monitoring
Linux Monitoring
Port Monitoring
Module 9: Ansible, Infrastructure as a Code
Understanding Configuration Management
Understanding Configuration Automation
Understanding Desired State Configuration Management
Understanding Continuous Configuration Automation
Understanding Server Client based Configuration Automation
Understanding Remote Configuration Automation
Introduction of Ansible tool
Introduction to YAML Syntax
How to Install Ansible?
Ansible: Playbooks and Modules live examples on several industry scenarios
Basic: Running Commands
Ansible: Roles, Files,Templates,Handlers
Ansible: Best Practices
Module 11: Docker Session & Orchestration Tools
Introduction to micro services
Introduction to Docker
Introduction to Docker commands practical
Working with containers
Introduction to docker HUB
Docker Demo
Docker Swarm
Docker Compose
What is Kubernetes
Technical Overview of POD, NODE, Containers
Kubernetes Cluster with multimode architecture
SCALE IN/SCALE OUT on demand
Services, Deployments Architecture
HELM Overview and Installation
Technical Overview of Kubernetes
What is Terraform
Build infrastructure using Terraform code
Change, destroy, manage infrastructure
Integrating Terraform on AWS
Updates to existing setup using Terraform
Learn through real-life industry projects sponsored by top companies
across industries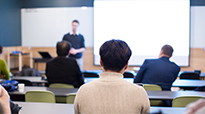 Dedicated Industry Experts Mentors
Receive 1:1 career counselling sessions & mock interviews with hiring managers. Further your career with our 300+ hiring partners.
Tableau Online Training Batch Schedule
7-Nov-20 | SAT-SUN | 8:00 AM to 10:00 AM
21-Nov-20 | SAT-SUN | 8:00 AM to 10:00 AM
23-Nov-20 | Mon-Fri | 7:00 PM to 8:30 PM
Timings Doesn't Suit You ?
We can set up a batch at your convenient time.
DevOps Online Certification
What are the requirements to unlock my DevOps 3RI Technologies Certification?
Frequently Asked Questions
1. What will all be covered in 3RI Technologies DevOps Online Training Program?
From all the essential terms to every advance features and fundamentals, the instructors of 3RI Technologies will help you to expertise your related skills and things like
Create CI/CD Pipelines using Jenkins
In-depth training about DevOps tools
Execution of software version control and management
Configuration management
Monitoring using performance tuning and Nagios
Developing an application and performing automation testing to them using Selenium and Marvel.
2. What are the pre-requisites for applying for this course?
There are no such criteria to apply for this course. Still, basic knowledge of Linux functionalities and knowledge about any scripting languages like Java or Python will help you to grasp things faster and easier.
3. Why go with 3RI Technologies for DevOps Online Training Program?
We offer the most comprehensive DevOps online certification training course, which is modernized according to the latest industry requirements and technologies. Here you will learn every framework of DevOps development and operations used in all the multinational companies around. Everything will be practiced with real-time synopses and terms from successful installation, integration, interaction, and collaboration.
4. Who all are eligible to apply for this course at 3RI Technologies?
Software Testers
Engineers/Developers
Solution Architect
System Admin
Security Engineers
Integration Specialists
Application Developers
5. Why should one go with Online DevOps Training and not Offline?
Learning guidance has emerged with the approach of technology. With our 24x7 access and support scheme, our online scholars will always be accessible by you for all kinds of queries and doubts you have. You can also clear your doubts right after the session is done, which is one of the driving factors to make sure that people achieve their end learning objective and understand the topics well. We also provide life-time access to our updated course material to all our previous scholars.
6. Who provides this DevOps certification, and what is its validity?
Once you have completed your DevOps online training successfully, you will be awarded an industry-recognized DevOps course completion certificate from 3RI Technologies, which indeed have a lifelong validity.
I'm Interested in This Program
DevOps Online Course Testimonials
Had a good experience in DevOps Online Training. The trainer has given training in an easily understood manner. The material used during training was simple and understandable. A very thanks to 3RI Online Training Institute. If you are planning to start your into DevOps, must join 3RI.
The best IT online training Institute. The environment is very peaceful to learn things better.. Training is so good so that people could get used to the topic very easily.. you people will rock always😊.thanks to 3RI Technologies.
Hii this is sachin from Bangalore, I have finished my DevOps Online training into 3RI Technologies, Indrajeet Sir is a very talented person, into DevOps technology, his teaching method is very amazing. Thanks, Sir for your wonderful sessions.