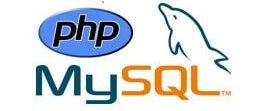 We are Offering Online Training
Trained 15000+ Students  |  3 Centers in Pune  |  Job Oriented Courses  |  Affordable Fees  | Pay in Easy No Cost EMIs  |  Flexible Batch Timings
Download Brochure & attend Free Online/Classroom Demo Session!
Download Brochure & attend Free Online/Classroom Demo Session!
The detailed syllabus is designed for freshers as well as working professionals
PHP is known as Hypertext Pre-processor. It is a widely-used open-source scripting language for the general-purpose, which is especially suitable for web-based development and easily embedded into HTML.
PHP has a difference in execution, and the code is directly executed on the server, generates the HTML code, which will then sent to the client. The client will receive the results of PHP Script ran on the server, but the client would not know the code written on the main page. We can also configure our web servers for processing of all our HTML files with PHP, and then users cannot tell what you have up your sleeve.
The best feature of PHP is that it is extremely simple for a fresher, but eventually, it provides so many advanced features for an Experienced Web Developer. The web developer can directly jump in, and within a short time, he will start writing simple scripts.
3RI Technologies is offering one of the best PHP Classes in Pune. Web Development Course designed in such a way that any fresher or non-IT background person can learn it from scratch.
Many people search for PHP Training in Pune, candidates who would like to make their profile in front end or UI development can go for that course as well.
ADVANTAGES OF PHP
3RI Technologies is offering one of the best PHP Classes in Pune. The reason is when we designed the course. We keep in mind that there should not be any prerequisite to join this course; also, the person who would like to learn PHP should get the basic knowledge of Web Designing course within this course.
PHP is an Open Source, which is one the advantageous thing for any industry. Hence, PHP is readily available and is free to develop websites.
PHP has a big list of advantages over any other scripting language. PHP is the most suitable and affordable technology for web development purposes. Below are the advantages of PHP; we will discuss briefly:
Cross-Platform. PHP is platform-independent; any PHP Application can run on any platform. PHP is supported by almost all Operating Systems, and examples are UNIX, Linux, Winds, and Solaris. These platforms can be used to write a program in PHP and can also be view web pages or execute the PHP based applications. PHP can interface with Apache and MySQL both. PHP has a versatility that it can integrate with any other technology like Java, .NET, HTML, CSS, JavaSript, Angular JS, and there is no requirement of re-development. It saves time, money, and energy to invest in other development tasks.
Easy database connection. Since PHP is executing directly on the server, for which the internet is using, and database connections are needed very often. Hence, the connection pf PHP with a database should be very smooth and operational with ease. Several websites that based on e-commerce, retail, or healthcare, need good DBMS. PHP has a module called "built-in," which helps in a fast connection with DB. Therefore, PHP is always the first choice when the objective is to develop a web-based application. PHP needs less time to learn and develop any web application, even a user who knows a little of HTML, CSS and JavaScript can quickly become a web developer in PHP.
Easy to use. PHP is popular and always the first choice of the web developer because it is easy to use. In comparison to other languages, PHP is simple, fluent, clean, and organized; hence it is beneficial for the newcomers. PHP has a simple and easy to remember and well-organized syntax. PHP syntax is similar to C, hence someone who knows C can start working on Python as well. Also, PHP is more comfortable to create and optimize the application.
3RI Technologies is offering

PHP Training in Pune

in which we offer a Web Designing course that consists of HTML, CSS, JavaScript, Bootstrap, AJAX, JQuery, Core PHP and Advanced PHP, Joomla, Codeigniter, and WordPress. Along with this course, we offer Mock tests, Interview preparation, and communication skills and aptitude classes.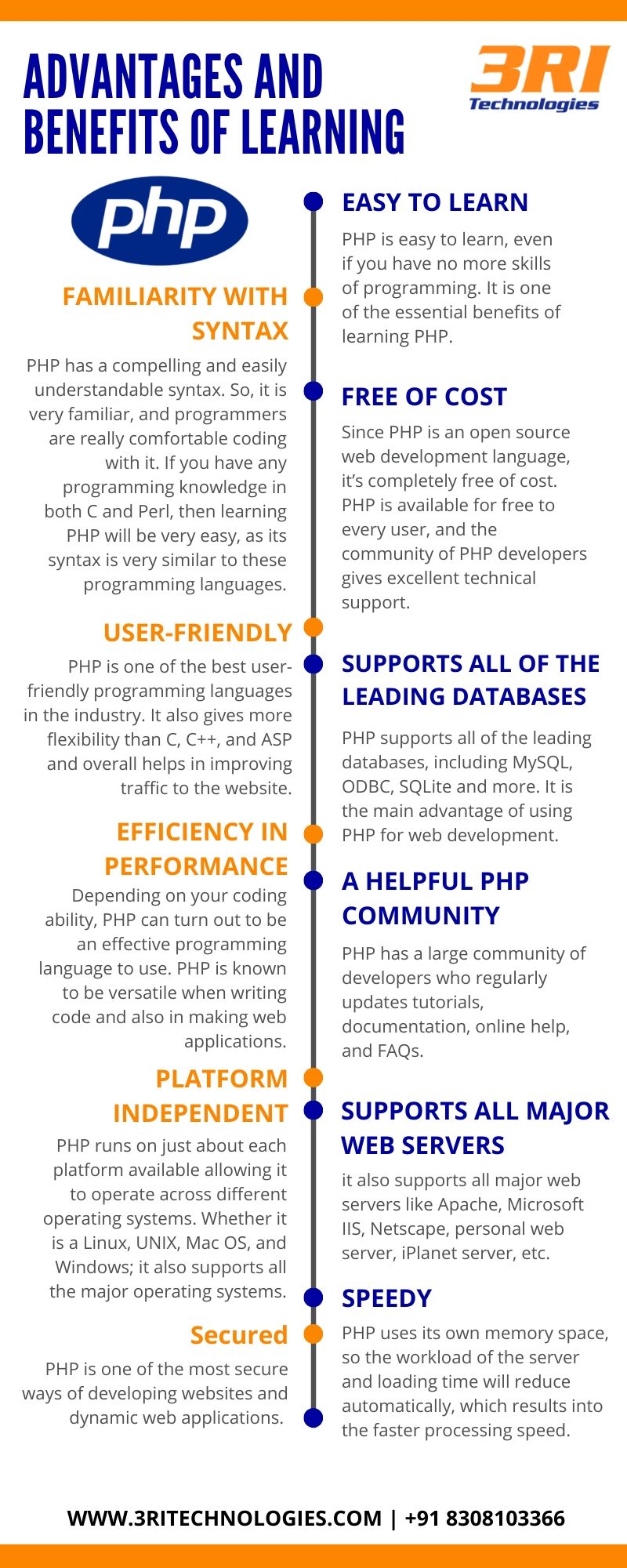 APPLICATIONS OF PHP
In today's scenario, any web application developed in the ecosystem should have the following features:
Customizable
Highly interactive UI
Can perform online transactions
Should integrate with DB
Through its 3-tier architecture, server, and database system, PHP offers a ready, reliable solution to achieve the features mentioned above. As a survey, it said that PHP is used to develop 82% websites; over 200 million websites built on PHP.
According to W3Techs' data, PHP is used by 78.9% of all websites with a known server-side programming language. Almost 8 out of 10 sites you visit on the Internet use PHP in some way. Which brings us to this fact
To be fair, that number is decreasing. In November 2017, W3Tech had PHP as the server language for 80.1% of sites. That number dropped to 79.6% in June 2018 and has now dropped to 78.9% when we published this post in November 2018.
Popular sites using PHP Language
Facebook.com
Wikipedia.org
Yahoo.com
Tumblr.com
Mailchimp.com
Flickr.com
WordPress.com
Canva.com
Istockphoto.com
Baidu.com
CMS – Content Management Systems
PHP provides support to different databases like MySQL, Oracle, and MS Access and is capable of interacting with other services. Hence, PHP has been used to develop popular web Content Management Systems (CMS), along with WordPress, and it is plugins.
e-Commerce Applications
From small to large businesses, online selling of products is the requirement of everyone. PHP frameworks like CodeIgniter Magento and CakePHP allow the creation of eCommerce based applications swiftly and efficiently. Examples of their usages of PHP frameworks in Applications are OpenCart, PrestaShop, AgoraCart, and Ubercart.3RI Technologies is offering one of the finest Web Development Course in Pune using PHP because after the course. We take a LIVE Project for domains like website development, web-based application development, e-commerce based application development, etc.
JOBS BASED ON
PHP CLASSES IN PUNE
3RI Technologies has a track record that the candidates who have completed the PHP Classes in Pune course from here got placed within the course duration or within one to two months.
PHP, the easy and versatile technology hence becoming the popular platform for websites and web applications these days. It is the best option for the IT freshers who recently completed their graduation and hunting for a job. As we understand that the fresher without knowledge of deep coding concepts, they can choose web development training with PHP to learn and master it easily with required concentration, practice, and best teaching.
The recent survey done by Economic Times says that more than 40% of the worldwide portals found on the internet today like Facebook, Wikipedia, Yahoo, etc. are developed on PHP and hence obviously the demand for PHP as a global web development platform highly increased.
For an individual looking a career in PHP Classes in Pune using PHP can see a lot of scope and wide career opportunities in the domestic and international market both.
Key Features of PHP Training
100% Placement Assistance
Resume Preparation
Interview Preparation
Missed Sessions Covered
Multiple Flexible Batches
Hands-on Experience on One Live Project.
Practice Course Material
There is no pre-requisite for this course. Prior knowledge of any programming language is beneficial.
DURATION: 300 Hours.
WHO CAN JOIN THIS COURSE?
Freshers, College graduates who would like to build their careers in web application development.
Web Designers.
Most frequent questions and answers
Hello everyone, 3RI Technologies is the best institute for networking. I am passionate about networking, visited many institutes. What I found in the 3RI technologies training center fit my criteria, so I joined there and Studying at 3RI is a great experience.
Manali Khot
*****
3RI Technologies Faculty is very good the teaching staff is very experienced and they help you to understand the course very well, Lab training is also provided in a very detailed manner including the teaching techniques are very good.
Suraj patil
*****
3RI Technologies is one such institute that is very productive from any student's point of view. It helps in clearing the concepts and the teachers are very helpful. It helps to concentrate in our careers. It provides a very good placement service.
Manjunath
*****