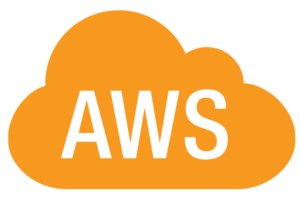 Online AWS Certification Training
Trained 15000+ Students  | 40+ hrs course duration | 15+ hrs assignment duration | Exams conducted after topic completion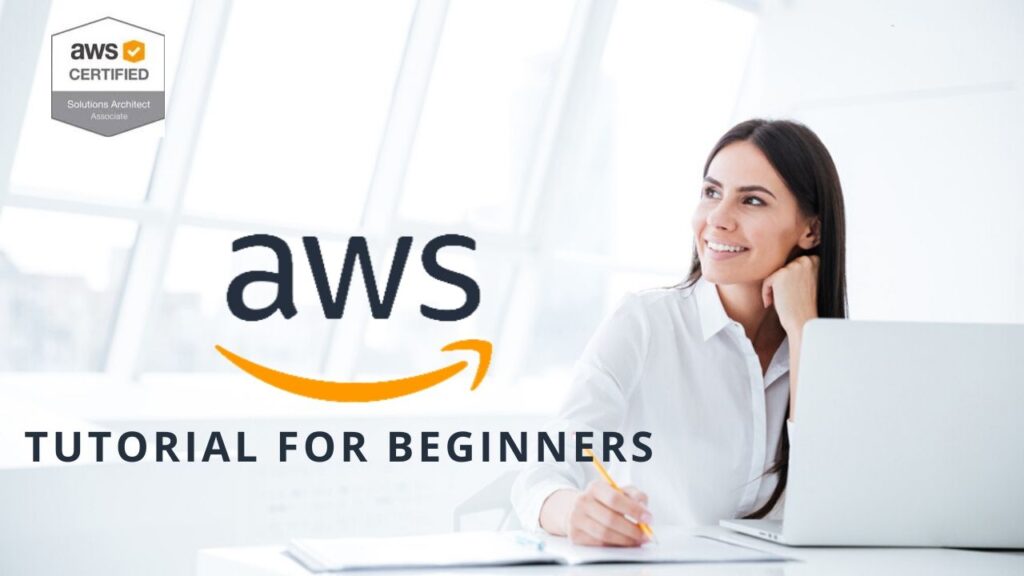 How to keep Social Distancing?
Enroll with us to learn AWS from home.
Join our Instructor-Led Online, interactive session.
Learn from Certified working experts.
AWS Online Training and Certification at 3RI Technologies​
About AWS Online Training
AWS Online Course
According to the increase in business startups every day, cloud computing has become an integral part of every industry. And from then till now - AWS is the only most recognized and famous cloud computing service, provider. It increases efficiency and grants aid for any business that you run.
If you move back in the 1990s, businesses were utterly dependent on buying servers, which were provided with minimal features and functionalities and very expensive. Hence, whenever a business use to experience growth or wanted to the extent their industry - there was a need for optimization practices to be carried with more server requirements. Earning those items proved unproductive and sometimes forbade high.
All these issues were overcome with the invention of AWS - Amazon Web Services, introduced by Amazon. With AWS, companies have servers available instantly where AWS also provides various workloads, enhanced security measures, increased storage options, and more.
What is AWS?
AWS - Amazon Web Service is a platform that offers resilient, stable, scalable, easy-to-use, and cost-effective cloud computing solutions. It is a comprehensive, easy to use computing platform proposed by Amazon. The AWS platform is indeed the communication and combination of all the latest services like IaaS i.e., Infrastructure as a Service, PaaS i.e., Platform as a Service, and SaaS Software as a Service.
3RI Technologies - AWS Course is a technical certification training course that helps you understand all the necessary details about Amazon Services and then move on to every service's details in detail. You will also get to learn all the fundamentals of the Amazon Web Services cloud platform and ensure that you are fully proficient in recognizing the AWS features, services, concepts, deployments, and terminologies to meet your business requirements.
Key Features
Live Projects
100% Placement Assistance
Real-time Project Experience on AWS Console
Flexible Timings
Certified Course
Interactive Sessions
24/7 Support & Access
Additional exams, tests, and mock conducted
Basic Knowledge of Operation and Infrastructure
No Prerequisites. Basic Knowledge of Programming is an advantage.
WHO CAN JOIN THIS COURSE?
Software Developers and System Admins interested in Deploying Applications on AWS
Project Managers or Solutions Architects.
AWS Online Certification Training Syllabus
Module 1: Introduction to Cloud & AWS
Define cloud computing.
Cloud computing Infrastructure.
Cloud service and deployment models.
Common misconceptions about cloud computing.
Common cloud Implementations.
Architecture discussion
Lab preparation
AWS account creation
Overview of major AWS services
Benefits of studying AWS
Module 2: Identity And Access Management Techniques (IAM)
Understand Users, Groups and Roles
Policies and Policy documents
Lab creating roles, user and groups
Access control
Policy management
Lab policy creation
Restricting different services for users.
Module 3: Amazon Elastic Compute Cloud (EC2)
Defining EC2 Instances
Different type of Images (AMI)
Lab creation Linux/Windows EC2 instances
Lab connecting to EC2 instances
Lab AMI creation
Volumes (EBS)
Lab volume creation
Lab setting up a volume once attached to Ec2
Lab snapshot creation
Lab security Groups
Key Pairs
Elastic Load Balancing
Lab Elastic load balancing
Launch configuration
Auto scaling concepts
Lab Auto scaling
Lab creation of billing alerts
Lab Cloud Watch
S3 buckets and its usage
Lab creating a S3 Bucket
Lab upload  and retrieve data from  S3 bucket.
Lab giving privileges on to  S3 bucket.
Lab on S3 policies and ACLs
Lab Life Cycle Management
Lab object expiration in S3
Lab S3 Versioning
S3-RRS, S3-IA and Glacier
CORS
Lab S3 Policy
Lab hosting a website on S3
Module 5: Networking: Setting up VPC and NAT
Lab creation of custom VPC
Default VPC concepts
Lab CIDR notation
Subnets and routing concepts
Different methods to connect to custom VPC
Lab to create Subnets
Lab  ACLs
Lab Routing rules.
Lab to create security groups at instance.
Lab setting up public and private subnets
Lab setting up Internet/Nat gateway
Lab Securing your network.
Lab Network ACLs
Module 6: AWS Databases RDS and Dynamodb
AWS Database services overview – RDS, DynamoDB, Elasticache, Redshift
Lab creating RDS instances
Read Replicas
RDS scaling concepts
RDS postgres sql server
RDS Oracle Server
Database migration Service
Lab configuring Multi-AZ failover
Lab accessing a database hosted on RDS
DynamoDb Core knowledge
Scaling with Dynamodb
DynamoDb write and read unit calculation
Elasticache concepts
Module 7: SNS, SWF and SQS
Working with simple notification system.
Understanding queuing service.
SNS and SQS real-time use case
Introduction to SWF and use case
Lab on SNS
Module 8: Application Services
R53 and DNS
Domain registration
R53 routing policies
Lab on routing policy setup
Routing policies in detail
AWS CloudFront
AWS Cloud Formation
Deployment Using Cloud Formation
Direct Connect
Module 9: Big Data Solutions
Data warehousing in AWS
Big data solutions in AWS
Module 10: Bonus Brief Introduction to Docker
What are containers and images
Introduction to Dockers
Architecture of Docker
Lab working with Dockers
AWS Online Training - Projects
Hands-on workshop/Project: Deploying a web-application using AWS services
Deploy a Python/Java application to access/create/upload files on S3 through EC2
Deploy a Python/Java application to create tables, insert values in DynamoDb through 
EC2
Lab on Kinesis, through cloud formation
Designing Fault-tolerant and Highly Available architecture
Data Security
Backup and Disaster Recovery
Deployment on AWS
Cost Optimization in AWS
AWS Online Training - Upcoming Events
10 SEP, 2020 – 10 OCT, 2020
07:00 AM IST
10 SEP, 2020 – 10 OCT, 2020
07:00 AM IST
10 SEP, 2020 – 10 OCT, 2020
07:00 AM IST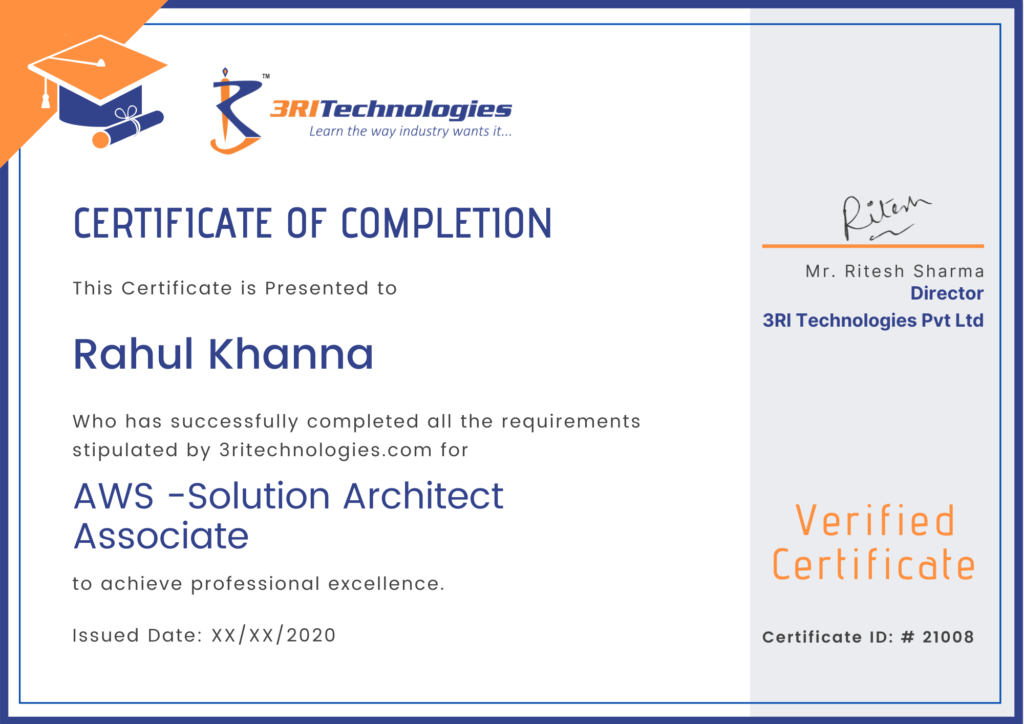 1. What are the prerequisites for choosing AWS certified online course at 3RI Technologies?
To start an AWS online training from 3RI Technologies – there are no specific prerequisites. Anyone with some essential programming language experience or basic networking knowledge can apply for this online AWS course.
2. What are the benefits of learning the AWS online training course with 3RI Technologies?
With 3RI Technologies AWS online training program, you will get to understand every basic concept and features with good examples, real-time scenarios, and theories. With this, our instructors will provide you with weekly assignments to help you in honing yourself in that particular subject. You can also associate with the instructor related to your doubts or queries at any time. Many additional activities, puzzles ad quizzes are also conducted by the instructor to make the learning exciting and interactive.
3. What will all be covered in this online course?
Everything from scratch will be taught at 3RI Technologies, and the detailed description of all the sessions, modules, and topics covered is given in the brochure below.
4. Who all are eligible to pursue this AWS online course?
We all know that AWS is one of the most renowned cloud services providing a platform, and hence AWS has been more in demand these days. And to become an AWS expert, there are no specific criteria. But yes, there are some prerequisites required before you learn AWS online course or apply for certification, like
Basic understanding of the IT services & solutions and how they are used in the AWS platform.
Experts with Virtualisation knowledge
System Administrator, Network Administrator or Solution
DevOps professionals
And professionals willing to promote their cloud computing knowledge can also enroll in this AWS online training course.
5. What are the benefits of selecting AWS online training from 3RI Technologies?
If you are willing to hone your cloud skills or want to start your career in the cloud domain - AWS online training with 3RI Technologies based in Pune is one of the best online training institutes. The course will help you achieve your goals easier & faster. Our AWS online training programs are designed and executed by our proficients to help you crack the AWS certification in the first try itself.
Get in-demand cloud bravery to give yourself an aggressive blade and grow your engagement with us.
6. What if I come across a doubt after completing my course?
There is nothing to worry about it. Once you sign-up with 3RI Technologies, you will have access to the Support Team for a lifetime and is available 24/7. Our support team will help you with the best outcome or solution for the queries or doubts you come up with.
7. What is the placement assistance provided by 3RI Technologies?
Almost more than 80% of 3RI Technologies Learners have been promotion, work location (onsite), lateral transfers & new job offers. Our certification is well recognized in the IT industry. It is a testimonial to the intense and practical learning you have gone through and the real-life projects you have presented.
8. Is it possible to attend the AWS online training demo before enrolling for this course?
Enrollment is an engagement between you and us where you promise to be a great learner, and we guarantee to provide you with the best ecosystem possible for learning. Our sessions are a vital part of your learning, enduring on the dependencies of learned and experienced instructors, dedicated Personal Learning Managers, and interactions with your peers. So undergo complete learning instead of a demo session. In any case, you are covered by 3RI Technologies Guarantee, and without any further questions, a 100% refund policy is available for you.
By the end of the AWS online training program, you will expertise yourself in executing every tool of the AWS cloud platform. Grasp the best online AWS training and certification from the most renowned instructors now.
AWS Online Course Reviews Mahima Gaikwad
Best institute for AWS Online Training. The Counselors first analyze our skills and based on it they give you better career opportunities which can give a better shape to your life. I will Suggest if anyone is serious about their career into AWS they must join 3RI Technologies. Sheetal Jagtap
3RI training institute is the best platform for me to explore myself and start my career into AWS. They also provide me a lot of interview calls. The training provided by 3RI is excellent. The environment is very good and all staff is also very good and helpful... Viraj Gupta
3RI Technologies provides the best AWS online training. I have completed my AWS certification from 3RI and got placed in Top MNC with a very good package and Completely satisfied with the services of the institute.