STEP in Full Stack Python
STEP in Full Stack Python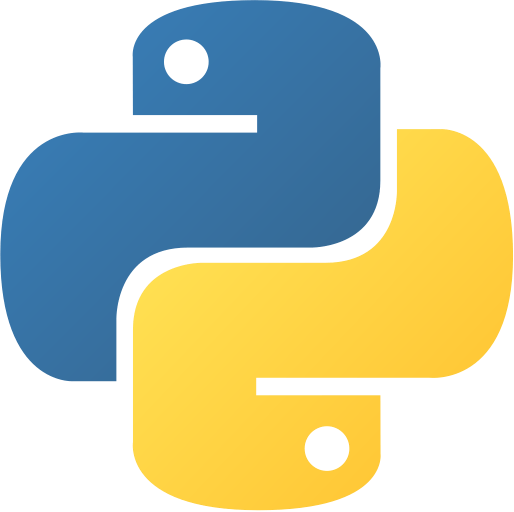 3RI Technologies is one of the Best Training Institutes in Pune. Full Stack course is a bundle of technologies mostly used in the industry nowadays. The full stack developers are in too much demand in the current market scenario. 3RI has designed and developed the full stack course according to the industry standards. The full stack course designed by us is a job-oriented course which is a part of our well-renowned STEP – Software Training Employability Program. Full Stack course at 3ri comprises of the foundation course, core course, an advanced course, which consists of Python. This course also comprises of soft skills and aptitude sessions which helps them to crack interviews.
Overview

Features

Syllabus

FAQ
Are you looking for full-stack training in Pune? 3RI offers the best Python full-stack course in Pune with placement! We have been training the candidates through a comprehensive and practice-oriented curriculum that ensures maximum learning and innovation. Full-stack is the buzz all over the development matrix, with the hiring agencies actively looking for developers that are capable of handling all the front end and back end tasks in entirety. 
Mastering 'full-stack' technologies are not, however, easy and require patient maneuvering through all the relevant segments, so that worthy caliber developed. A full-stack developer is adept at using in a customized manner, the latest technologies and frameworks in HTML, CSS, and Javascript apart from fine coding skills in the back end programming languages such as Python! At 3RI, we teach you all in a flowchart way that lets you grasp the knowledge while also giving you adopt the practical insights that are equally significant for best results. 
Why undertake 'full-stack training'?
A full-stack development course in Python allows you to compete well as a frontrunner for the job listings of age. Most such listings ask for a full stack developer who is well versed with Python and its frameworks so that desirable web experiences achieved for the users. On the other hand, the job of a full-stack developer is to design the website/app with such UI and program codes so that customized value produced without compromise. He is required to put in place the relevant technologies of the front end development. The Python coding sets in the background and make it all work seamlessly so that a glitch-free and immersive experience delivered to the users, who can be the commoners in the socio-economic system, the buyers, the business partners or the employees 'in house'. 
By deciphering the demand of every project for the client, a full stack developer makes use of the appropriate front end and back technologies and frameworks to produce real resonance. Such a capability, however, warrants not only thorough knowledge in all the tech segments of relevance but also the acumens to use them judiciously as per the project demands, beginning from coding to testing and execution! In most cases, full-stack Python developers work as freelancers or when they tasked with a particular project single-handedly. Unless they address all the demands resonantly, the results would be elusive. A full-stack course in Python teaches you the right methodology to attempt the demands in totality without any gaps and in a chronology so that discrepancies are done away with at the development stage itself.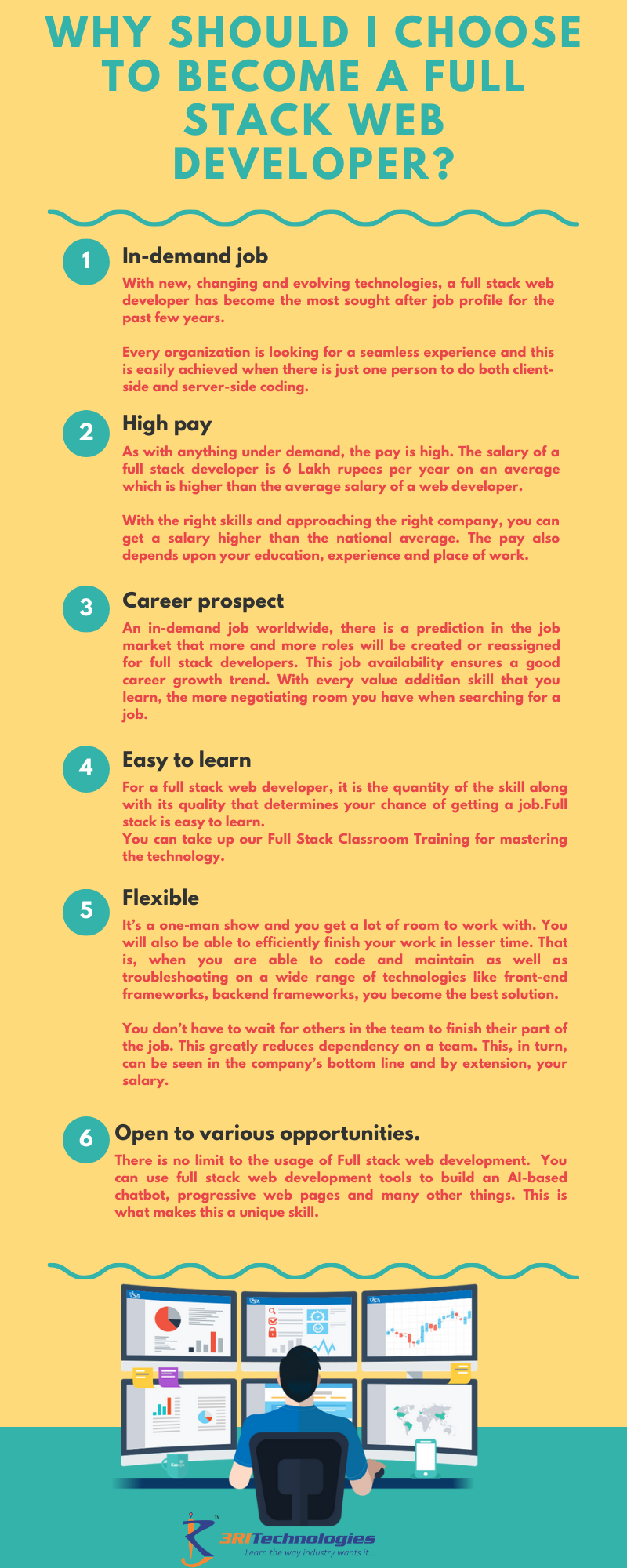 3RI is the leading institute offering full-stack training in Pune, and we adopt a holistic approach to ensure that candidates learn the concepts well while also acquire the applicative skills that are the most vital part of any 'full-stack' program. 
Full-stack Python course at 3RI – An overview 
Our full-stack development course in Python is a complete spectrum that includes all the segments of front end development and back end development. Auxiliary concepts that help the developers coordinate their work effectively throughout the project accomplishment also included. The latter is the essential determinant of the efficacy of the entire development cycle and includes topics such as databases, networking, systems administration, and project management. Here are the topics covered in our full-stack Python course in Pune – 
Python – the programming language and its development frameworks 
Python as a programming language has found sheer resonance because of the ease that it offers to the developers for writing codes. Its flexibility towards serving diverse orientations of the web and mobile arena in the current age is also the reason for its high acceptance and popularity among the developers. At 3RI full-stack course, we teach you from the basics of Python, its development environments and also cover the advanced topics that are trending. 
HTML has become synonymous with web development and design today. You learn how to control the structure and content of the website that you design through the efficient use of HTML tools and functions. Apart from HTML5, we also undertake the legacy concepts of it so as to train our candidates well. 
Enhance the richness of the web pages you design by the CSS functions. We offer CSS3 tutorials in addition to the best practices that have been developed through recent innovations so that you achieve the prime resonance each time. 
Javascript is the real game-changer when we talk of full-stack! It is the development frameworks of it, such as AngularJs, JQuery, and Node.Js, among others that let you do the deeper tinkering and achieve the complex functionality for the user with ease. While many times undermine the demand of coding tasks of back end Python (sometimes even bypass), the role and significance of the latter cannot be ignored altogether. Therefore at 3RI, we teach you the right approach of making balanced use of Python coding tasks and Javascript to churn out the best value in every project. 
Databases have become almost an indispensable part of every web concept. Ranging from essential/confidential company data and programmed metrics aggregation to unstructured types for analytics and inference/projecting, data is everywhere. We teach the latest database management techniques so that a responsive and buoyant system produced. 
It is essential to make the right use of networking tools and applications so that seamless interfacing developed, and the website or app works well without interruption. At 3RI full stack classes in Pune, you get to learn all of these in detail. 
DevOps is also among the trending qualifications in the hirers' domain. DevOps skills allow a developer to achieve the continuum that can be attempted as a team rather than as unconnected departments. With DevOps capability, you better equipped to deliver as per demands and in less time. 
Apart from these, topics of systems administration and project management also taken up in the terminal part of our Python full stack training in Pune. 
The practical training at 3RI - 
The most definitive aspect of our full stack course is the practical session wherein the candidates get to learn by being part of the real project teams on board 3RI. You get 'hands-on' experience that enriches your learning and instills the ability to innovate as per the demands of the project. It determines your productivity and prowess in the industry as a full stack developer. 
Placement assured training! 
3RI is among the fewer institutes in India that assure its candidate's placement in the domestic and global industry. Our students are serving the leading banners of the web and app development industry and have earned acclaims through their works. 
The placement process at 3RI remains open round the year, and our placement division works proactively to interface with the companies and to hire agencies in India and abroad! However, you need to earn the certification that awarded after completing the 'Full Stack Course in Python'. With the best training faculty available, we are ready to train you in the finest conduct. So enroll now! 
100 % Placement Assistance
Resume Preparation
Interview Preparation
Missed Sessions Covered
Multiple Flexible Batches
Hands on Experience on One Live Project.
Practice Course Material

 

PREREQUISITES:

There are no Pre-requisites for this course.
A Basic Knowledge of Programming Language is Advantageous.

WHO CAN JOIN THIS COURSE?
1. Programming Basics
Fundamentals of Computer
Understanding Applications
Using Windows Explorer & File Structure
Number Systems
Application Software
2. Operating System & Networking
Need for operating system
Functions of Operating System
Process Management
Memory Management
File Management
Device Management
Types of operating system
TCP/IP fundamentals
Networks and computer networks
2 tier, 3 tier and n-tier architecture
3. C Language
Introduction to C
Keywords, Constants and Variables
Data Types in C
Operator and Expressions
Control Structure
Functions
Pointers
Arrays
Structure
String Handling
Preprocessor Directives
File Management in C
Dynamic Memory Allocation
4. Object-Oriented Concepts using C++
Introduction to OOPs
Beginning with C++
Class, Objects Basics
Constructor, Data Members
Operator Overloading
Inheritance
Polymorphism
Overriding
5. Linux Foundations
Introduction to UNIX and its flavours
UNIX architecture
File System
User and Group Policies
Unix general commands
Concept of Files and Directories in Unix
File Permission and related commands
Filter Commands and their options
Vi Editor
6. Introduction to Database Management Systems
Introduction to Database
DBMS, RDBMS, ORDBMS
DDL, DML, DCL, TCL
Data types
SELECT Statement
Restricting and Sorting Data
Aggregating Data using Group Functions
Manipulating Data
Sub queries
Important Functions
Joins and different types
1. Front-End Introduction
What are website and web application?
What is the difference between the local server and web server
Client-server architecture
2. HTML
Introduction and Basic Structure of HTML
Paragraphs, Headings and Text Formatting Tags
Html list
Html links
Html Images
Html table
Html4 & 5 form elements
3. CSS
Introduction of CSS
Types of CSS
Basic CSS properties
CSS Box Model
Division Structure (Overview of how to create a webpage )
CSS Position
4. Javascript
Introduction of Javascript
How to display output in JS
JS Variables &Datatypes
JS Operators
JS Conditional Statements & Looping Statements
JS Functions
Pre-defined Functions
User-defined functions
HTML Events
JS Validations
5. Bootstrap
What is Bootstrap?
Bootstrap Setup
Bootstrap grids
Bootstrap buttons, forms, navigation bars
Python - Back End Technologies
Python Programming
An Introduction to Python

Python Environment Setup
Discuss IDE's like IDLE, Pycharm and Enthought Canopy
Start programming on an interactive shell.
Python Identifiers, Keywords
Discussion about installed modules and packages
Access Command line arguments within programs

Conditional Statement, Loops, and File Handling

Python Data Types and Variable
Condition and Loops in Python
Decorators
Python Modules & Packages
Python Files and Directories manipulations
Use various files and directory functions for OS operations

Python Core Objects and Functions

Built-in modules (Library Functions)
Numeric and Math's Module
String/List/Dictionaries/Tuple
Complex Data structures in Python
Arbitrary data types and their Data Structure
Python built-in function
Python user-defined functions
Python packages and functions
The anonymous Functions - Lambda Functions

Object-Oriented Python

OOPs Concepts
Object, Classes and Destroying Objects
Accessing attributes, Built-In Class Attributes
Inheritance and Polymorphism
Overriding Methods, Data Hiding
Overloading Operators

Exception Handling in Python

Exceptions Handling
Handling various exceptions using try....except...else
Try-finally clause
The argument of an Exception and create a self exception class
Python Standard Exceptions
Raising an exceptions, User-Defined Exceptions

Debugging Python Programs

Debug Python programs using PDB debugger
Assert for debugging
Testing with Python using UnitTest
Iterable and generator in Python
Yielding from the generators
Standard project setup in Python

Regular Expression

Regular Expressions
What are regular expressions?
The match and search Function
Compile and matching
Matching vs searching
Search and Replace feature using RE
Extended Regular Expressions
Wildcard characters and work with them

Package Installation and Windows spreadsheet parsing

What is pip, easy_install?
Set up the environment to install packages?
Install packages for XLS interface, Database Interface, and Web interface
XML and XLS parsing with Python
Create XLS reports with Python
Database Handling with Python
Database Handling with MySQL

Python MySQL Database Access
Create Database Connection
DML and DDL Operations with Databases
Performing Transactions
Handling Database Errors
Disconnecting Database

Database Handling with MongoDB

SQL vs NoSQL
MongoDB
PyMongo
Establishing a Connection
Accessing Database
DML and DDL Operations
Web-Baed Python Frameworks
Django Framework
Introduction to Django
How to create Django App
Url Mapping
Templates
Introduction to static file
Django Model Overview
Creating model
Model template view creation
Django forms and validation
Relative Url with Template
Interacting with a Database: Models
Overview of Models,
Creating Models
Configuring the Database
Your First App
Using Django with MySQL.
Population Scripts
Models-Templates-Views Paradigm
Inserting and Updating Data
Selecting Objects
Deleting Objects
The Django Administration Site
Activating the Admin Interface
Using the Admin Interface
Users, Groups, and Permissions
Database Handling with NoSQL DB
SQL vs NoSQL
MongoDB
PyMongo

o  Establishing a Connection
o  Accessing Database
o  DML and DDL Operations
Views and Templates
URL Template Inheritance
Template Inheritance Coding Example
Quick Note on Custom Template Filters
Template Filters and Custom Filters
Template Filters Coding Examples
Django Passwords
Deploying Django Framework
Form Processing
Django Forms
Form Validation
Model Forms
Relative URLs with Templates
Relative URLs Coding Examples
Flask Framework&TkInter GUI Framework
Overview of Flask Framework
Installation of  Flask and Demo Application
Overview of TkInter Framework
TkInter Widgets
Daily Assignments and hands-on Topics covered.
Interview Questions, Resume Formation and Interview Tips
1. Self Analysis
Know yourself
Personality types
Areas of interest
2. Self Discovery
SWOT Analysis – strength, weakness, opportunities, threats
3. Goal Setting
Short-term plan
Long-term plan
Effective Time-management
4. Effective Self Presentation
Personal grooming, Dressing, Hygiene
5. Effective Communication
Verbal – Language
Voice modulation - Tone, Pitch
Clarity of Speech
Listening skills – Active Listening, Selective Listening
Written communication – general business correspondence
6. Email Etiquette
7. Body Language
Understanding non-verbal communication
Postures, Gestures, Eye contact
8. Tips to prepare impressive Resume
9. Tips for Group Discussion
10. Handling Telephonic interview
11. Mock – Technical interview
12. Mock – Personal Interview (PI)
13. Office Etiquettes and Mannerisms
1. Quantitative Aptitude
Number Systems
LCM and HCF
Percentages
Profit, Loss, and Discount
Interest (Simple and Compound)
Speed, Time and Distance
Ratio and Proportion
Probability
Permutation & Combination
Time and Work
Heights and Distances
2. Logical Reasoning
Number and Letter Series
Calendars
Clocks
Logical Sequence
Blood Relations
3. Algebra
Linear Equations
Quadratic Equations
Higher Degree Equations
After the course completion, an exam will be conducted to judge your knowledge along with the Live Project work completion check and you will be awarded a certificate from 3RI Technologies.
Yes, we provide 100% Placement Assistance to our students. We have a dedicated team for Placement and tie-ups with 300+ MNC's and SME companies.
Yes, we conduct Demo Classes every weekend. Please contact us for more details.
Full Stack - Python Batch Schedule