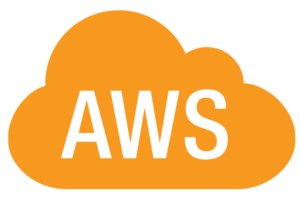 We are Offering Online Training
Trained 15000+ Students  |  3 Centers in Pune  |  Job Oriented Courses  |  Affordable Fees  | Pay in Easy No Cost EMIs  |  Flexible Batch Timings
Get Amazing Job Opportunities by AWS Training & Certifications.
Enroll Now AWS Training at 3RI Technologies 
The detailed syllabus is designed for freshers as well as working professionals
1. Introduction to Cloud & AWS
Define cloud computing.
Cloud computing Infrastructure.
Cloud service and deployment models.
Common misconceptions about cloud computing.
Common cloud Implementations.
Architecture discussion
Lab preparation
AWS account creation
Overview of major AWS services
Benefits of studying AWS
2. Identity And Access Management Techniques (IAM)
Understand Users, Groups and Roles
Policies and Policy documents
Lab creating roles, user and groups
Access control
Policy management
Lab policy creation
Restricting different services for users.
3. Amazon Elastic Compute Cloud (EC2)
Defining EC2 Instances
Different type of Images (AMI)
Lab creation Linux/Windows EC2 instances
Lab connecting to EC2 instances
Lab AMI creation
Volumes (EBS)
Lab volume creation
Lab setting up a volume once attached to Ec2
Lab snapshot creation
Lab security Groups
Key Pairs
Elastic Load Balancing
Lab Elastic load balancing
Launch configuration
Auto scaling concepts
Lab Auto scaling
Lab creation of billing alerts
Lab Cloud Watch
4. S3
S3 buckets and its usage
Lab creating a S3 Bucket
Lab upload  and retrieve data from  S3 bucket.
Lab giving privileges on to  S3 bucket.
Lab on S3 policies and ACLs
Lab Life Cycle Management
Lab object expiration in S3
Lab S3 Versioning
S3-RRS, S3-IA and Glacier
CORS
Lab S3 Policy
Lab hosting a website on S3
5. Networking: Setting up VPC and NAT
Lab creation of custom VPC
Default VPC concepts
Lab CIDR notation
Subnets and routing concepts
Different methods to connect to custom VPC
Lab to create Subnets
Lab  ACLs
Lab Routing rules.
Lab to create security groups at instance.
Lab setting up public and private subnets
Lab setting up Internet/Nat gateway
Lab Securing your network.
Lab Network ACLs
6. AWS Databases RDS and Dynamodb
AWS Database services overview – RDS, DynamoDB, Elasticache, Redshift
Lab creating RDS instances
Read Replicas
RDS scaling concepts
RDS postgres sql server
RDS Oracle Server
Database migration Service
Lab configuring Multi-AZ failover
Lab accessing a database hosted on RDS
DynamoDb Core knowledge
Scaling with Dynamodb
DynamoDb write and read unit calculation
Elasticache concepts
7. SNS, SWF and SQS
Working with simple notification system.
Understanding queuing service.
SNS and SQS real-time use case
Introduction to SWF and use case
Lab on SNS
8. Application Services
R53 and DNS
Domain registration
R53 routing policies
Lab on routing policy setup
Routing policies in detail
AWS CloudFront
AWS Cloud Formation
Deployment Using Cloud Formation
Direct Connect
9. Big Data Solutions
Data warehousing in AWS
Big data solutions in AWS
10. Bonus Brief Introduction to Docker
What are containers and images
Introduction to Dockers
Architecture of Docker
Lab working with Dockers
PROJECT: WORK AND CASE STUDIES
Hands-on workshop/Project: Deploying a web-application using AWS services
Deploy a Python/Java application to access/create/upload files on S3 through EC2
Deploy a Python/Java application to create tables, insert values in DynamoDb through 
EC2
Lab on Kinesis, through cloud formation
Designing Fault-tolerant and Highly Available architecture
Data Security
Backup and Disaster Recovery
Deployment on AWS
Cost Optimization in AWS
PREPARATION FOR AWS ASSOCIATE CERTIFICATIONS
500+ Practice Questions, in-line with certification.
Doubts Clarification Session
Resume Preparation Guidance by Expert
Interview Preparation by Certified AWS Trainer
AWS is the leading cloud computing platform and holds no less than 34% share globally. This figure offers a glimpse of its acceptance in the broader scene. The definitive advantage that AWS offers is its supra resource pool. It is synergized by smart functions of high utility for the whole range of applications like virtual storage & compute processors, networking, analytics, CRM, database management, robotics, media, application development tools, internet of things (IoT) and much more.
With such a robust functional matrix on offer, there is no denying the fact that the demand for AWS professionals is an upswing. The takers of AWS certification courses are therefore also rising in numbers; however, these screenings are tough nuts to crack, unless the aspirant has trained himself well in the theoretical and practical conducts. 3RI is the leading institute that offers AWS Training in Pune, and it has also been assisting the candidates towards successful certification.
Batch Schedule for AWS Training at 3RI Technologies
To all our students, we offer flexible batch timings. If at all the batch schedule does not match with our student's schedule, we make sure we adjust the batch timings accordingly. We have a vast number of batches, which makes it easy for our students to choose one for themselves conveniently. 
What exactly is AWS Training?
Before we dive into the topic, let us first understand what exactly AWS Training is.
AWS is a short form of Amazon Web Services. So welcome to the AWS guide where you can uncover many facts, benefits, and uses of Amazon Web Services. In this article, we shall discuss all the domains which are associated with Amazon Web Services because it is always wise to have some knowledge about the course before pursuing it. The necessity to take this exclusive course is having some learning on how exactly a specific application sent on servers and a little idea on computer system managing. Now let's get back to what AWS is. AWS is nothing but an Amazon platform that serves its cloud services, for example, servers, file storage, database, computing machines, etc. An individual is free to rent these services provided by Amazon by paying rent, depending on their usage. 
As we all are aware of the fact that Amazon Web Services launched in the year 2006, it did not take much time to run on FastTrack and get high in demand. It is best known for its cloud computing capacity and is one of the largest cloud stages on the planet. 
Amazon Web Services can be one of the leading paths to develop a certain organization. The best part about AWS, which people love, is it is very much cost-effective coming with various plan options. Due to all these unique features, the platform is very much high in demand, whereas many IT hubs and other organizations start with their pre-work following the AWS hosted execution without even thinking twice. Apart from all the features which are listed above, AWS wrapped with other incredible features that offer identity and access management, security, deployment, directory services, storage, application services, computer services, and analytics. 
This can be a good source of ongoing and alternative earning for individuals. If you are afraid of losing on your priceless data and you plan on the shift all the data into a cloud-based storage system, then you should check out Amazon Web Services. This can be a perfect match for your needs and won't let you down. To avail of this exclusive course, contact 3RI Technologies today. 
Make the best out of the course with one of the best AWS Training in Pune at 3RI Technologies with course certification and assured placement opportunities with appropriate and flexible batch timings.  
If you are looking for an effective, genuine, and a very reliable AWS course in Pune then let us discuss what all 3RI Technologies offers to all its students, 3RI provides its students with top-class theoretical as well as practical knowledge which makes it a brilliant AWS Training in Pune. To know more about the course, you are free to walk in anytime to our Training center, or you can simply give us a call or request a call back through our website. We at 3RI Technologies are very much customer friendly carrying huge years of thorough experience in this training field with expert and senior trainers with a detailed course where you can make the best out of it.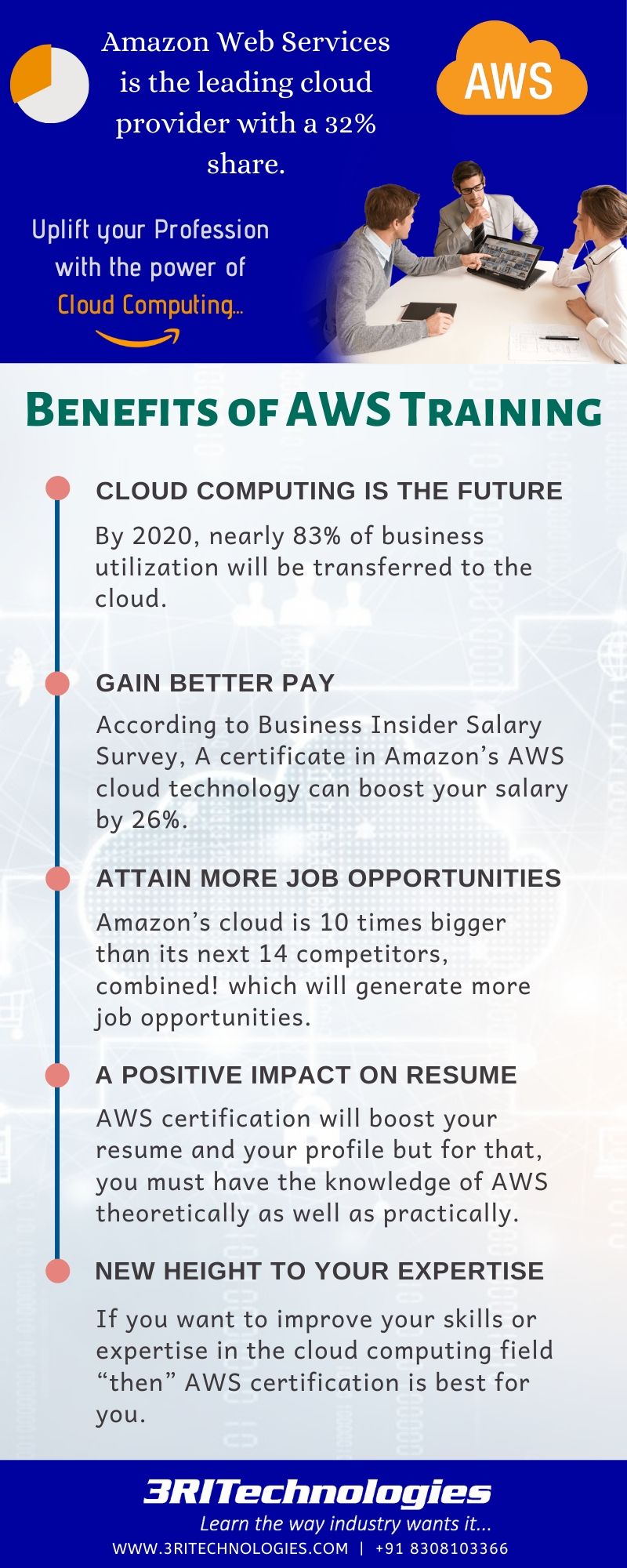 WHY SEEK AWS TRAINING?
While those leveraging AWS cloud platform for professional services are many, a formal course taken by the candidate makes him eligible for the authentic certificate directly from the house of AWS. This certification brings him on par with the best professionals whose calibers have been tested thoroughly. They are called as the certified professionals and find greater appeal in the marketplace where clients seek the best service through expert. The following I have found maximum demand in the economy
AWS Certified Solutions Architect – Associate
AWS Certified Solutions Architect – Professional
AWS specialty certifications are also in demand and are taken by professionals who want to validate their expertise in designated fields of AWS services such as big data & analytics, information systems & security and networking, and many more.
The candidates taking the AWS course are introduced to the basics, after which practical 'hands-on' Training is conducted. AWS course in Pune, like the one offered at 3RI, enables the takers to clear the certification test easily.
Why Chose 3RI Technologies for AWS Training in Pune? 
Boost your career with 3RI Technologies exclusive Amazon Web Services Course and add on to your skills and that one life-changing line into your resume. We at 3RI Technologies make sure we cover every aspect of the course in detail and take you through the real trends of today's IT world.  We provide the best AWS Training in Pune. We hold a huge of years of experience in this training field with expert, experienced, and most knowledgeable teaching staff. We prepare our students so well that they touch success with flying colors. At 3RI Technologies, we train our students so perfectly that no stones are left unturned, which brings their name not only in the training academy but also within their friends and family. We also ensure that you get this exclusive AWS Training with Placement.  Due to all these reasons, 3RI Technologies has been considered as one of the most reliable and one of the best training centers in Pune with a good name in the market. 
Our teaching staff at 3RI are well trained, and we have one of the most experienced teams of trainers in and around Pune. The trainers have immense knowledge and proficiency in providing theoretical as well as practical knowledge to our students at 3RI. We teach our students with a student-centric approach. Due to these reasons, the students have that one special place in their lives for 3RI Technologies as they have always been successful after the completion of course at 3RI, where we ensure adequate training outcomes.
Apart from all the above reasons, other reasons for the students to pick our courses are because 3RI is a genuine and very trusted AWS training institute in Pune. 3RI is very fit to welcome a wide range of students and have been planned to remember the requirements, benchmarks, and expectations of the industries from AWS-trained expert individuals. We investigate every possibility to keep you at the cutting edge of innovation and make sure that every little part of the information you get from us is right and pertinent to the present-day world. 
After all, It comes to the job placement opportunities after completing the course. As we all know that in today's IT world and every other industry, cloud-based systems are very high in demand, and Amazon Web Services are nothing but cloud-based systems. Due to the high demand for AWS, it is much easier to get excellent job offers after course completion at 3RI Technologies.  
THE AWS COURSE STRUCTURE
AWS Training course must resonate with the requirement of skills development in the candidate, irrespective of his abilities as a fresher or a practicing professional! This warrants the inclusion of both the theory and practical dimensions so that holistic knowledge acquisition and applicative potential is developed in the individual. 3RI offers well managed AWS course in Pune and also provides placement assistance through its industrial Training division that interfaces with the global giants hiring cloud professionals. Here is an objective list of the modules of the AWS Training session at 3RI
AWS Overview
Identity Access Management (IAM)
Amazon Virtual Private Cloud (VPC)
Elastic Compute Cloud (EC2)
Simple Storage Service (S3)
Amazon Route 53
Databases Training
Application Service Training
Security Protocols Training For Cloud Deployment
Disaster Recovery
Troubleshooting
AWS Solutions Architect Exam Simulation
After successfully acquiring the basic and specialized knowledge of the above segments, the candidate takes the AWS certification test to become a certified professional.
3RI conducts AWS classes in Pune and follows a well-charted methodology to train the candidates in a stipulated timeline. The institute also complements theory with practical sessions by allowing 'hands-on' Training to the takers on the projects that are undertaken by the developers on board 3RI. This helps the candidates to get real insights on the development basics while using AWS core capacities and functions.
THE SIGNIFICANCE OF AWS PROJECT TRAINING
Project Training serves to synergize the theoretical knowledge acquired by the candidate with his applicative skills. It is the backbone of any successful AWS course. Unless the candidate learns the technique to actually utilize the AWS cloud platform and its specialized sub-niches, the value will remain a blur. Project Training serves to fill the gap and offers a bridge to the learners who develop skills to generate optimal value out of the AWS cloud!
Additionally, through dynamic project training, the candidates also get to acquaint themselves with the new development trends and market demands as also the industry best practices, which are all dynamic ingredients towards best utilization of the AWS cloud.
3RI organizes comprehensive AWS Training in Pune, and every year hosts thousands of learners that seek to add depth to their competencies. Experienced and Amazon certified professionals deliver the Training sessions that optimize the grasping power of the candidates.
AWS TRAINING IN PUNE
Basics for AWS
Introduction to Cloud and AWS
Amazon Elastic Compute Cloud (EC2)
Identity And Access Management Techniques (IAM)
S3
SNS, SWF, and SQS
Networking: Setting up VPC and NAT
AWS Databases RDS and Dynamodb
AWS-LAMBDA, AWS-Kinesis
Application services,
Introduction to docker,
Big data Solutions: Data warehousing in AWS
Designing Fault-tolerant and Highly Available architecture
Identifying the appropriate use of AWS architectural best practices
Hands-on Projects & Case Studies –
Hands-on workshop/Project: Deploying a web-application using AWS services
Deploy a Python/Java application to access/create/upload files on S3 through EC2
Deploy a Python/Java application to create tables, insert values in DynamoDb through 
EC2
Lab on Kinesis, through cloud formation
Designing Fault-tolerant and Highly Available architecture
Data Security
Backup and Disaster Recovery
Deployment on AWS
Cost Optimization in AWS
PREREQUISITES:
Basic Knowledge of Operation and Infrastructure
Key Features of AWS Training 
100 % Placement Assistance
Resume Preparation
Interview Preparation
Missed Sessions Covered
Multiple Flexible Batches
Hands-on Experience on One Live Project.
Practice Course Material
DURATION: 
7-8 Weeks
WHO CAN JOIN THIS COURSE?
Software Developers and System Admins interested in Deploying Applications on AWS
Project Managers or Solutions Architects.
Most frequent questions and answers
3RI Technologies is one of the best training center in Pune for AWS. They have the best experts as the trainer who are not only give training but also help in career development in AWS which is so helpful for my career.
Priya Rajput
*****
I joined the Dec 19 batch of AWS conducted at 3RI TECHNOLOGIES. The trainer is very thorough and patient. He is also very honest with his knowledge and works with you towards finding better solutions. Classrooms are decent with AC & projectors. Prices are competitive. Overall I am very satisfied with my experience here. And would recommend people for AWS at 3RI technologies.
Rutuja Desai
*****
Some institutes giving only material to read and learn there is no demo and practical of AWS but in 3RI I experienced that they have Demo lectures as well as online practice sessions. The staff is also very cooperative and the trainer is always ready if you have any queries for placements also trainers helps a lot. A very Thank to the 3RI team for the support.
Roshan Sharma
*****