Mean Stack Training in Pune
MEAN Stack stands for MongoDB, Express.js, Angular, and Node.js. It is mostly an open-source software bundle and written in one language for both server-side and client-side environments. Angular has become the most in-demand framework, and with the induction of MEAN Stack, one can use Node and Express.js between the client and server. 
3RI Technologies offers the MEAN Stack Training Course conducted by industry expert trainers. Our Mean Stack Training in Pune is a classroom training program conducted on weekdays and weekends as well. We ensure the high quality of training and take your career to the next level by joining this Mean Stack Training Program. Our primary focus is on quality training and ensuring the placements of students in well-reputed companies. We provide live project work to students, and our trainers specially train them according to the industry standards. After the completion, of course, students get well versed with the technology and also gains confidence as we induct various programs to make them ready for the industry.
Overview

Features

Syllabus

FAQ
For those of you looking for taking up MEAN STACK Training in Pune, we are here for you! 3RI Technologies offers a training course in MEAN STACK for aspiring developers. The classes will prepare you for a strong foot in the IT app development industry. After a full course, you can confidently learn the techniques to build a full-stack web app with Angular Material, MongoDB, NodeJS, Passport, Express, and Angular 5/6. The classes are carried out by industry experts who have hands-on experience in developing many such web apps using MEANstack. This particular MEAN stack training in Pune will give you a chance to take your career in app development ahead by helping you gain a strong foundation in all of the related concepts.MEAN Stack interview questions and answers also help you to get a job.
Why could MEAN stack training help your career?
The very first-time MEAN stack announced, a lot of JavaScript developers could not understand what it was in detail. MEAN is an abbreviation for MongoDB, ExpressJS, and AngularJS, functioning upon NodeJS. This platform gives the developers a chance to create applications using as little coding as possible and with a great view of all the components that make it up.
Besides this, writing all the codes in JavaScript and getting the work done quickly is a heavenly feeling for all the new coders who dream of making it big in the industry! Aren't we right? That is why we at 3RI Technologies are offering the best MEAN stack classes in Pune for the aspiring developers.
So, what exactly makes Mean stack so alluring for developers as well as the companies?
JavaScript 
All the codes are written in JavaScript and, thus, take very little time for completely neat work. It allows you to speed up your entire process of web app development.
Cost-effective
By hiring a single developer, well-versed with MEAN stack, the companies can also cut down their costs. Thorough knowledge in MEAN stack means that there is no requirement of hiring several different specialists. What is more? It has also opened up new prospects for the full-stack JavaScript developers.
MongoDB's benefits inferred
Many developers prefer using MongoDB as it helps to manage a vast database. MongoDB also makes it a lot easier to update and edit tables. Another huge benefit is that the documents look similar to objects present in any kind of object-oriented language.
Advantages of NodeJS also included
NodeJS became popular because of its feature to use the web sockets in order to send data to the client directly without the need for any request from the client-side. That is why it reduces complexity and delays in the process.
Top choice for companies
Be it a startup or a well-established company, almost all of the players in the industry are moving over a NodeJS. Besides this, different communities also support a more frequent use of MongoDB as their database provider. It would give you a chance to grab the eyeballs of the recruiters in all of your job interviews.
3RI Technologies understands this growing need for more and more MEAN stack developers in the IT industry. That is why it has come up with such an effective MEAN stack course that helps you achieve mastery in the subject in minimum time. You should sign up for the MEAN stack training in Pune from us and get the certification that could change your life!
MEAN stack Learning Course: A detailed overview
We have kept the syllabus of the course comprehensive to include all the essential and necessary concepts that will help you excel in the profile. At the end of the course, you will be successfully able to code MEAN stack web apps, confidently write Express Back-End services for the web, develop ad route the single-page applications, create MongoDB documents, and more!
This course is developed meticulously by teachers and experts, keeping in mind your overall requirements and needs. It includes
MySQL knowledge
In this first module, you will be given a detailed analysis of why document-based databases are preferred. This module will also teach you the basics of CRUD operations – their functional usage and creating read and write operations using CRUD. The third part would include schema designing and data modeling.
Thorough knowledge of NodeJS and Express JS
Through this course, you will be imparted with a solid foundation for NodeJS, where you will learn about its installation, usage to execute scripts, HTTP protocol, setting up an HTTP server, express framework, and more. It is all about basics. After this, you will be given knowledge about NodeJS projects where you learn how to create a project, automating tasks with Gulp, and all information about the Node package manager.
A detailed study of ExpressJS
This module covers all the concepts – basic and advanced- regarding ExpressJS. Students will learn the process of setting up routers, handling form data and errors, using templates, using REST, reading POST data, building Handlebars helpers, etc. This module will be all about learning how to use the MEAN stack to build real apps.
AngularJS
It is the last module in the course and the vastest one as well. It is a very comprehensive module that has many chapters under it. Chapters on Angular 4 and Angular 5 also included in this module. It covers a detailed study on routers, pipes, forms, display data, data binding, user input, directives, architecture, etc.
You can check out the entire syllabus of MEAN stack classes in Pune from 3RI on our website. This course will surely catapult your career and take you to heights in the IT industry.
What should you already know?
Before enrolling for this course, you should be familiar with HTML, CSS, and basic JavaScript. You should have an idea and knowledge about developing a web application and an IDE or text editor usage.
Why Choose 3RI technologies?
3RI technologies give you more than one reason to opt for their MEAN stack training in Pune. Our staff is very well-trained and has hands-on experience in building web apps using MEAN stack. We conduct an exam after the course completion to judge what all you have received from the course.
Besides this, our live project work does give you more confidence and practical knowledge about how to use MEAN stack in real-time. We also guarantee 100% placement assistance to our students. We have a specific team for the same, and we have tie-ups with more than 300 MNCs and SMEs from around the world. We do give reference materials to all our students to help them supplement the class teachings.
To top it all up, we do provide demo MEAN stack classes in Pune on weekends. So, those who want to know more about the same can simply get in touch with us today! Register with us, and we will assist you in exploring this beautiful world of MEAN stack and web development that is taking the industry by storm! You could be the next thing that the top companies are looking for!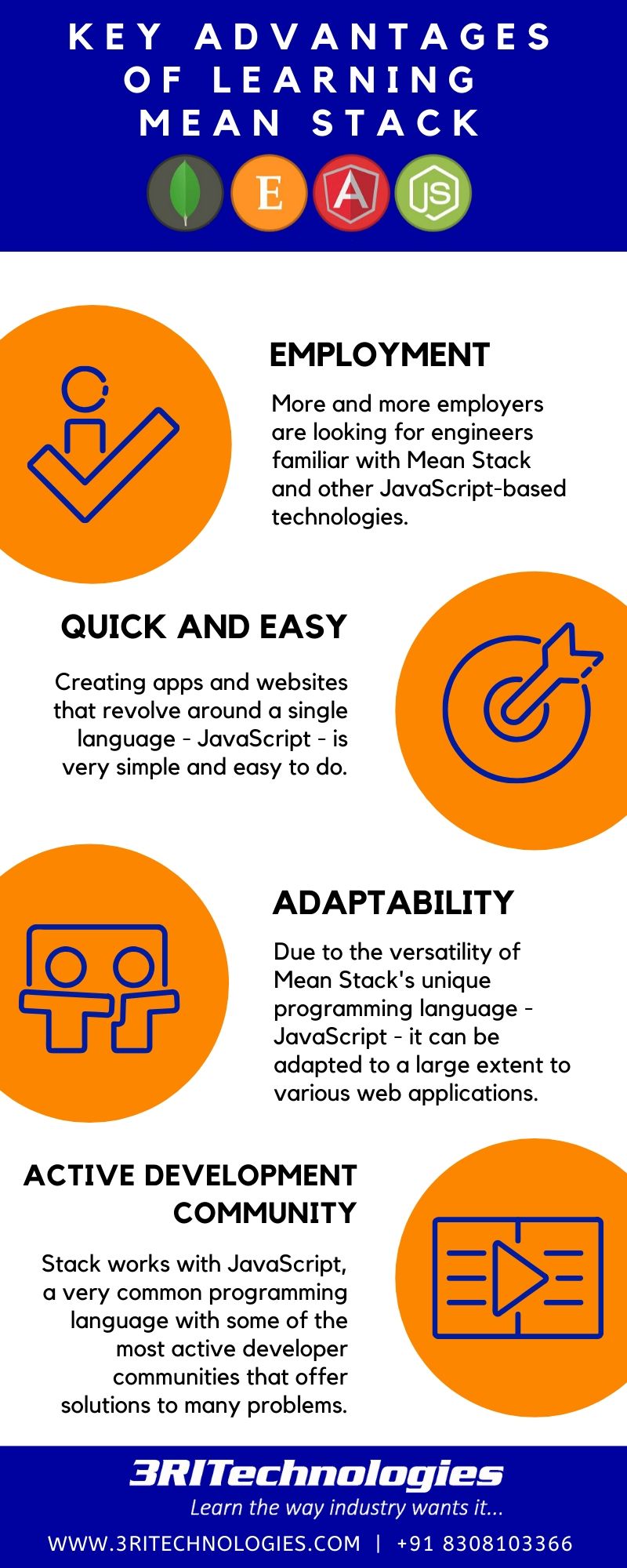 COURSE FEATURES
Hands on Experience on One Live Project.
100 % Placement Assistance
Resume Preparation
Interview Preparation
Missed Sessions Covered
Multiple Flexible Batches
Flexible Timings
Practice Course Material
PREREQUISITES:
Basic knowledge of JavaScript and HTML/HTML5
DURATION:
7 Weeks(Weekday Batch)
8 Weekends(Weekend Batch)
WHO CAN JOIN THIS COURSE?
1. Design Goals, Architecture, and Installation
What is the need for Non-RDBMS
Benefits of using Document-based databases
2. CRUD Operations
Understanding of CRUD Operations
Functional usage of CRUD
Read / Write Operations with CRUD
3. Schema Design and Data Modelling
Schema Design and
Data Modelling in MongoDB®
Various Data Structure and
Tools to Manage Data Model in MongoDB
1. Introduction to Node JS
Introduction
Foundation
Introduction to the Node JS framework
Installing NodeJS
Using NodeJS to execute scripts
The Node Package Manager
The package.json configuration file
Global vs local package installation
Automating tasks with Gulp
The HTTP protocol
Building an HTTP server
Rendering a response
Using Representational State Transfer
Express Framework
Connecting to Mongo databases
Performing CRUD operations
The NodeJS framework
Installing NodeJS
Using NodeJS to execute scripts
2. NodeJS Projects
The Node Package Manager
NodeJS Creating a project
The package.json configuration file
Global vs local package installation
Automating tasks with Gulp.
3. HTTP
The HTTP protocol
Building an HTTP server
Rendering a response
Processing query strings
NodeJS using Representational State Transfer
Configuring TLS
An Introduction to Express JS  
Routing  

Setting Up Router
Route Parameter and queries

HTTP Interaction
Handling Form Data
Handling Query Parameters
Error Handling
Creating and Consuming RESTful Services
Using Templates
The model-view-controller pattern
Defining Jade and Handlebars templates
Building a front-end controller
Defining routes
Creating actions
Configuring Express to use Handlebars
Using REST
Reading POST data
Building Handlebars helpers
Adding middleware
Data Sources
How Node.JS connects to databases
RDBMS databases and NoSQL databases
Connecting to RDBMS and NoSQL databases
1 Getting Started
Introduction
What is Angular 2?
How Angular Works?
Difference between Angular and Other Framework
Advantages of AngularJS
2. Typescript
What is typescript?
Compare typescript with Javascript
Data Types & Variables
Variable & Operators
Control Structure and Decision making & loops
Typescript Functions & Strings
Typescript Object
Class, Abstract Class
Constructor Method
Type of Assertion
Interfaces
3. Application setup
Installing Angular JS
Configuration of Angular JS
Creating an Angular 2 project
Creating an Angular 2 project using CLI
4. Node package manager
Setup
Commands
What is NPM
Install Nom for Angular.
5. Architecture
Module
Component
Template
Metadata
Data binding
Directive

Attribute Directive
Structural Directive,

Services
Dependency Injection
6. Angular UI design patterns
FlexBox

What is flexbox
How to design your user interface with flexbox model

Material Design
What is material design
How to use and setup material environment
Material components and layouts:

Material cards
Mat-Icons
Mat table

Bootstrap

How to install bootstrap in angular environment
Bootstrap layout and components
7. Directives
Understanding Directives
Directives Overview
Different kinds of directives
Build attribute directive
Apply the attribute directive to an element in a template
Respond to user-initiated events
Pass value into the directive with an @Input data binding
Custom Attribute Directive
8. Structural and Attribute Directive
What is structural directive?

NgIf case study
NgFor, NgSwitch

What is attribute Directives

Using the NgStyle Directive
Using the NgClass Directive
The element
9. Service
What is service?
Create a service
Understanding Services Injecting Concepts
Async service and promise
Introduction to Observable
What is web service
how to create web service
how to consume rest service
posting data to client server architecture
Introduction to Material Design
Introduction to card Material Design .
What is Json Server .
Install json server and run and up into your local machine
crud operation using son server.
10. Dependency Injection
Why dependency injection?
Angular dependency injection
Injector provider
11. Data Binding
Interpolation
Property binding
Event binding
Attribute binding
Class binding
Style binding
Multiple components & passing data
12. Display data
Class Binding
Style Binding
Event Binding
Two-way Binding
Component Data Binding
Component Events
Ng-Model
13. User input
Binding to user input events
Get user input from the $event object
Get user input from a template reference variable
Key event filtering (with key.enter)
14. Form
Types of Forms in Angular4
Introduction to Template Driven Forms.
Validation of Template Driven Forms.
Introduction Model Driven Forms.
Validation of Model Driven Forms.
Two way data binding using ngModel.
Model Driven Forms With Form Builder
How to post data via a angular forms with rest service.
15. Pipes
Introduction to Pipes
Why pipes are useful.
Type of pipes
Built-in pipes
parametrized pipes
how to create custom pipes
16. Router
Setting Up Router
Imperative Routing
Route Parameter
Child Routing
17. What are the change in every version of angular
Difference and changes in various angular versions.
Latest angular version and it's features
Hands on Experience on Live Project
Online portal for E-learning Management
A Web-based project like E-commerce Website
After the course completion, an exam will be conducted to judge your knowledge along with the live project work completion check and you will be awarded a certificate from 3RI Technologies.
Yes, we provide 100% placement assistance to our students. We have a dedicated team for Placement and tie ups with 300+ MNC's and SME companies.
Yes we conduct demo classes every weekend. Please contact us for more details.