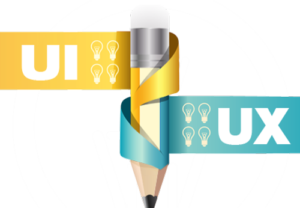 Online UI / UX Design Certification Course
Trained 15000+ Students  | 40+ hrs course duration | 15+ hrs assignment duration | Exams conducted after topic completion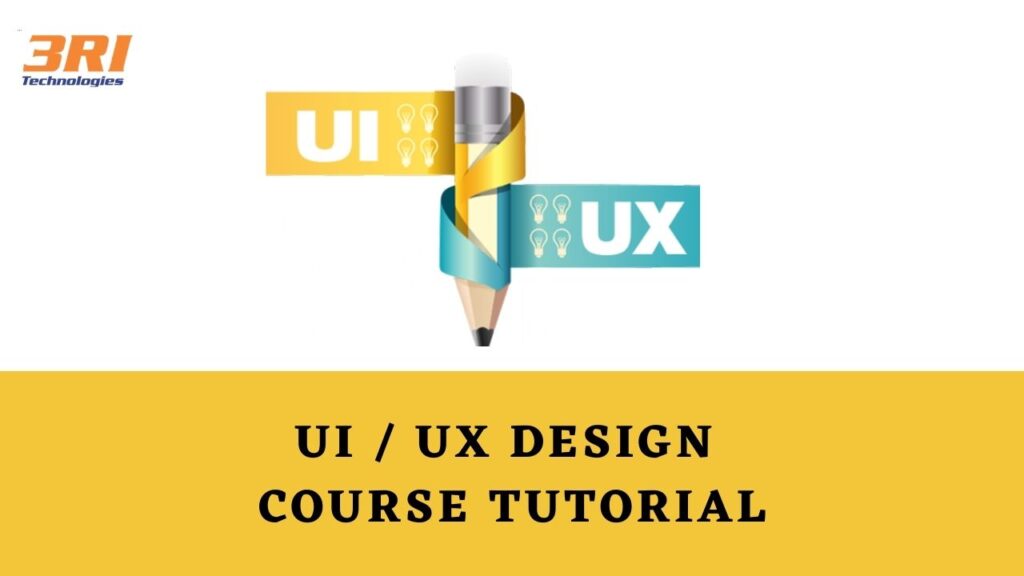 How to keep Social Distancing?
Enroll with us to learn UI/UX from home.
UI/UX Design Online Course at 3RI Technologies​
About UI/UX Online Training
What is UI/UX development?
Let me first break down the two words. UI stands for User Interface, whereas UX for User Experience.
User Experience or UX development means a process followed by a developer to improve the customer experience, so they stay on the website for a longer time and increase network traffic. The focus of a UX designer is customers or users who are visiting the website or application. UX designer ensures customers experience a smooth flow while accessing the websites/applications.
User Interface development or UI development is improving the look and feel of a website or application. This would involve enhancing the presentation of the website/application. UI designer primarily works on improving the look of the interface by adding buttons and different visual elements.
Every business needs to improve its profits. To do so, we need a good UI/UX experience.UI and UX designer needs to work together, ensuring a good presentation of the website without affecting the customers' overall experience.
Any customer who visits our application or website should have an enriching experience to make a purchase happen. For any business, UI and UX design can make or break the brand image.
Different types of approaches are followed for excellent User Experience.
Lean UX: It is a method of investigation formulated and validated before committing any prototype for the product. Its primary focus is on outcomes. In the Lean UX method, the designers are always discovering new designs to provide better solutions.
Agile UX: It is a method that combines the design team with the development team following Agile practices. In Agile UX, the design is made by the UX designers. It is then developed, deployed. Also, user testing is carried out. Then customer feedback is taken and based on this feedback, and necessary changes are made if needed.
Benefits of UI/UX design course
Enrolling in a UI UX online course helps in a better understanding of user flow. You will be able to define the project strategy, user architecture. After a UI/UX design course, we can do user analysis to help develop sitemaps or wireframes for a fruitful experience for the user by adopting the best coding practices. You will also have better planning, and this will save us from rework. It will help you in increasing the profits of the company.
Also, if we look at several companies like Amazon that do not have their warehouse but deal in various products to their customers and earn huge profits out of it, similarly, if we look at Ola/Uber's success, they do not own a single-vehicle. But earn a massive commission on providing traveling convenience to their customers.
All these websites have gained business with a fantastic user interface bundling with a smooth user experience. This is all is needed today in any business for its constant growth and development.
Today, all the industries are looking for a skilled UI expert or UX expert who can help them develop a user-friendly website for higher sales. Also, there is a constant rise in demand for more mobile applications. This is the reason for a high demand for UI specialists or UX specialists who can provide reusable and viable designs for mobile applications or websites.
The average salary of a UI designer or UX designer is six lakhs per year, as published by Glassdoor.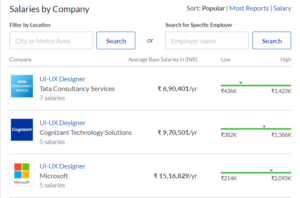 You will be able to find several UX courses online, join the best, 3RI Technologies.
Why UI/UX Developer course from 3RI Technologies?
3RI Technologies is an ISO 9001:2015 certified IT training institute that trains you in basic and advanced technologies needed in any IT companies. It is the best institute to offer UI UX certification course online.
We have ten years of experience in training students in different technologies across different domains in IT. The vision of our company is to provide quality education at a reasonable price. The happy faces of all our students after each class is the goal of our institute.
You can learn UI UX design online through our interactive classes that happen on weekdays and weekends. Any fresher or working professional can select a UI UX design course online batch that suits them. We have several options for batches from which they can choose a suitable batch. In case if you miss any LIVE class, you may attend the same with any upcoming batch. You can also listen to the LIVE course recordings if the previous option is not feasible for you.
Once you enroll in UI design online course, you have lifetime access to all the study material. You will be trained by a UI expert or UX expert who will be sharing their industry experiences during the class. All our instructors ensure that they dive deep into the topics and provide clarity of all the concepts. All your doubts will be cleared during the LIVE interactive UX design online course. In case of any more doubts, you can always reach us at [email protected]. 
We also provide you with the necessary assistance needed for software installations at your place. This will help in practical implementations of real-time projects. These projects will help you create a portfolio shown to the companies during the interview process. The portfolio helps in the easy selection of our candidates.
Also, each day the class will end with quizzes and assignments to continuously monitor your progress.
You will receive personalized guidance from our instructors regarding your career and job opportunities. Our team will help you in drafting your resume and creating an impressive LinkedIn profile. They will share interview tips, possible questions asked by companies. We also conduct special personality development workshops by experts to improve the soft skills of our students.
After completing the course, you able to be awarded a Completion certificate recognized by almost all industries.
Key Features
LIVE class
Quizzes at the end of class
Daily Assignments for practice
Doubts solving
Flexible batch timings
Hands-on training with mentoring from instructors
Portfolio creation
Mockup interviews
Personality development workshops
Completion certificate
Lifetime access to our study material
Basic Knowledge of HTML, CSS, Web Technologies
WHO CAN JOIN THIS COURSE?
Software Developers and System Admins interested in Deploying Applications on AWS
Project Managers or Solutions Architects.
UI/UX Online Certification Course Syllabus
Module 1: Introduction to UX design
Different design approaches
Overview of the user centred design process
UX versus UI – what's the difference
Module 2: Collaborative design
Understanding your users
Free and low cost user research methods
Traditional user research methods
User task analysis
Customer journey mapping
Personas and scenarios
Documenting requirements
Module 3: User behaviour and design principles
Wireframes and prototypes
Wireframe design tools and technologies
Interaction design principles & usability heuristics
Presentation design principles
User confidence, trust and credibility
Accessibility
Forms and application
design principles including input controls, dealing with data, error handling, progressive disclosure
Module 4: Usability testing
What to test and when in the development lifecycle
Where to test - field studies versus internal offices / meeting rooms versus usability laboratory
Design a usability study and writing a test plan
Recruiting test participants
Moderating test sessions
Tips and traps for successful usability tests
Evaluating results
Communicating test results and convincing stakeholders
Module 5: Mobile & tablet UX
Designing for tap
Mobile design principles – what is different for mobile
Mobile app versus mobile web
Prototyping for mobile
Creating Logo,icon
High fidelity wire frame
Mockups
Color theory
Banners
Responsive and adaptive website creation
Android and ios app designing and assets creation
UI/UX Online Training Course - Projects
Online UI/UX Certification Course - Upcoming Events
10 SEP, 2020 – 10 OCT, 2020
07:00 AM IST
10 SEP, 2020 – 10 OCT, 2020
07:00 AM IST
10 SEP, 2020 – 10 OCT, 2020
07:00 AM IST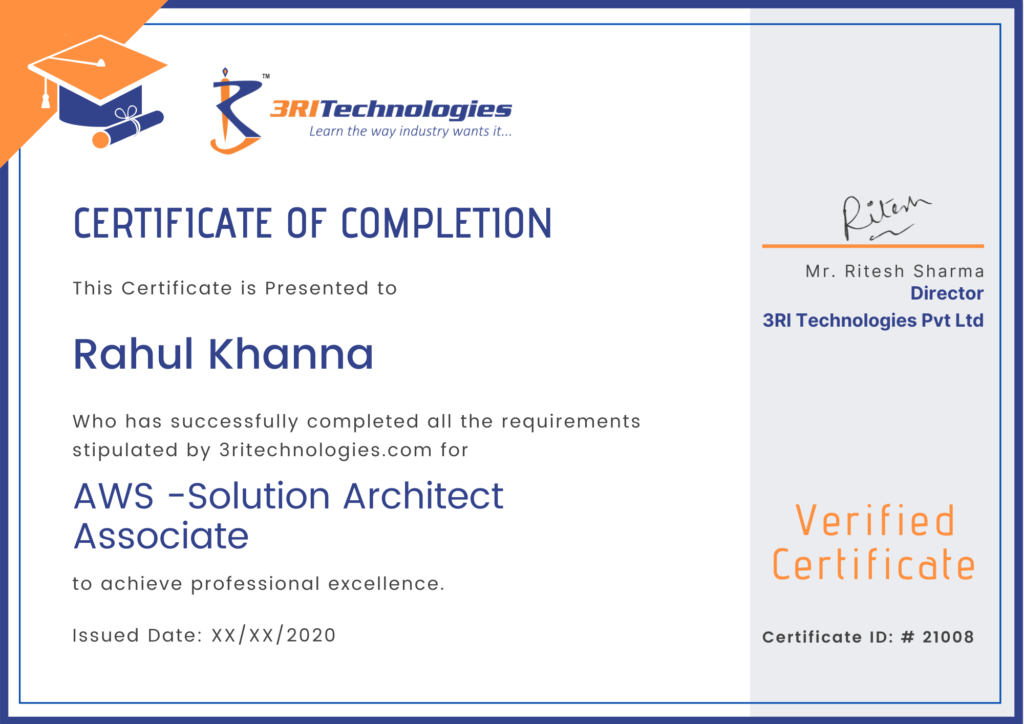 Online UI / UX Course FAQ'S
1. Who can join this course?
Anyone passionate about implementing their visual designs based on user research can pursue these online courses for UI UX design. You can follow this course while completing graduation or even after graduation. You need not have any prior design experience. Join today and become a UI analyst or UX analyst.
2. How long will it take?
It roughly takes 50 hours to complete this course. However, you may require some more time to complete real-time projects. These projects will be beneficial to build your portfolio.
3. Will I get any certificate after this course?
Yes, you will be awarded a certificate of completion from 3RI Technologies once you clear our exam and complete the assigned projects. This will help us in judging your progress.
4. Will I get any placement assistance?
Yes, you will receive assistance from a dedicated team. We will help you in drafting a brief resume highlighting your skills. We will also help you create an impressive LinkedIn profile, as this is popular among employers. You will be participating in Mockup interviews to prepare you for all probable questions asked by the employer. You will also attend our Personality development workshops for free. This workshop will help to improve your soft skills and presentation skills.
5. Is it possible to attend the UI UX design online course demo before enrolling for this course?
If you are willing to hone your cloud skills or want to start your career in the cloud domain - AWS online training with 3RI Technologies based in Pune is one of the best online training institutes. The course will help you achieve your goals easier & faster. Our AWS online training programs are designed and executed by our proficients to help you crack the AWS certification in the first try itself.
Get in-demand cloud bravery to give yourself an aggressive blade and grow your engagement with us.
6. What will be covered in this online course?
3RI Technologies is the best UI UX Design course online. We will be covering the below modules in our LIVE classes.
Designing principles in this module, you will be studying the differences between UI design and UX design. You will also be studying the important stages of design thinking.
Conducting User Research 
In this module, you will study how to identify and write a statement for a user's problem. You will also learn different possible solutions to that problem. You will also learn about Persona creation.
Creation of a solution
In this module, you will learn how to design a solution, create stories for a user. You will also be learning about User architecture and Information architecture.
UI Designing principles
In this module, you will study different UI and Visual elements. You will understand the style guides available and the brand platform.
Principles of Sketching and Wireframing
In this module, you will learn the principle of Sketching, Guerilla Testing. You will also study what Responsive design and Wireframing is. You will also create a Wireflow.
Designing High Fidelity
In this module, you will be building mockups for High Fidelity. You will be learning about Interactive patterns and Animation Designing & its interaction.
Building of Prototype
In this module, you will learn how to build a prototype, conduct user testing. Also, you will learn how to perform changes based on test results.
Portfolio creation
Along with regular quiz and assignments during each module, here you will be working on real-time projects that will help you create your portfolio to showcase to prospective companies for job opportunities or freelance work.
UI / UX Online Training Reviews Meenal
I enrolled in this course after thorough research. The instructors shared their experiences while working in companies. The learnings from this training have helped me to get praise in my current job. The curriculum is also in line with market trends. Happy to join 3RI Technologies!!! Pooja Yadav
When I was looking for a program that could help in finding a job, the team helped me to understand the market demand for UI / UX. Once, I had enrolled, the instructor helped me to clarify all my doubts, no matter how much time I took.Thanks Sunny M.
3RI Technologies is the best training institute for UI /UX . I missed a few classes, but the portion was covered with the next batch. Many examples of implementation were covered. The placement team helped me prepare for the interview rounds. Thus I have secured a job. I can recommend UI / UX training from 3RI Technologies to all.