Selenium Training in Pune
3RI Technologies is a pioneer in the training industry to deliver Selenium Training in Pune. Our Selenium course is a blend of classroom training with a perfect mix of classroom sessions and practical's. We have been providing classroom training to students and corporate training as well. We have multiple branches in Pune with our training institutes at Deccan and Pimple Saudagar. Our training centers are well equipped with high-class infrastructure and ready to use for students. We focus on real time projects during selenium classes in Pune so that students get a real time experience and get ready to work as per the Industry Standards.
Overview

Features

Syllabus

FAQ
Selenium is one of the best open sources, free automation testing tool for functional testing available in the market. With the exponential increase in the web-based applications, companies and organizations are harnessing the power of Selenium Tool to effectively get these applications tested. Test Automation also has an edge over the speed and lowers the repeatability of tests.
Considering the demand of Selenium professionals in the IT industry, 3RI Technologies has designed a market centric Selenium course. Selenium course at 3RI Technologies is highly competent and comprehensive. Our Selenium course is ideal for fresher students and for individuals who have experience and knowledge on Manual Testing as well. Our Selenium Training Classes helps students to grasp the latest automation techniques which play a major role in their career growth. The Best way of teaching Selenium is followed by 3RI Technologies, here our experts first teach you Java Training untill you get a hands on practice on Java and then will move to Selenium. Join us for the best selenium training in Pune and excel in your career.
Selenium WebDriver works by making calls to the browser & then performing testing or operations on the browser. Different browser drivers are used for making calls to different browsers. Such as ChromeDriver, IEDriver, GeckoDriver, etc. The call is made by writing scripts. Selenium automation testing tool is used by most of the companies to their product. A bit about Selenium; Selenium provides a record/playback tool for authoring tests without the need to learn a test scripting language (Selenium IDE).
Selenium is an open-source and a portable automated software testing tool for testing web applications. It has capabilities to operate across different browsers and operating systems. Selenium is not just a single tool but a set of tools that helps testers to automate web-based applications more efficiently. There are 4 selenium tools namely Selenium IDE, Selenium RC, Selenium WebDriver, Selenium Grid.
Before starting to learn selenium you need to know that only testing of web application is possible with selenium. In selenium training you will learn Selenium IDE, Selenium Installation, working of its components, we provide certification training for selenium.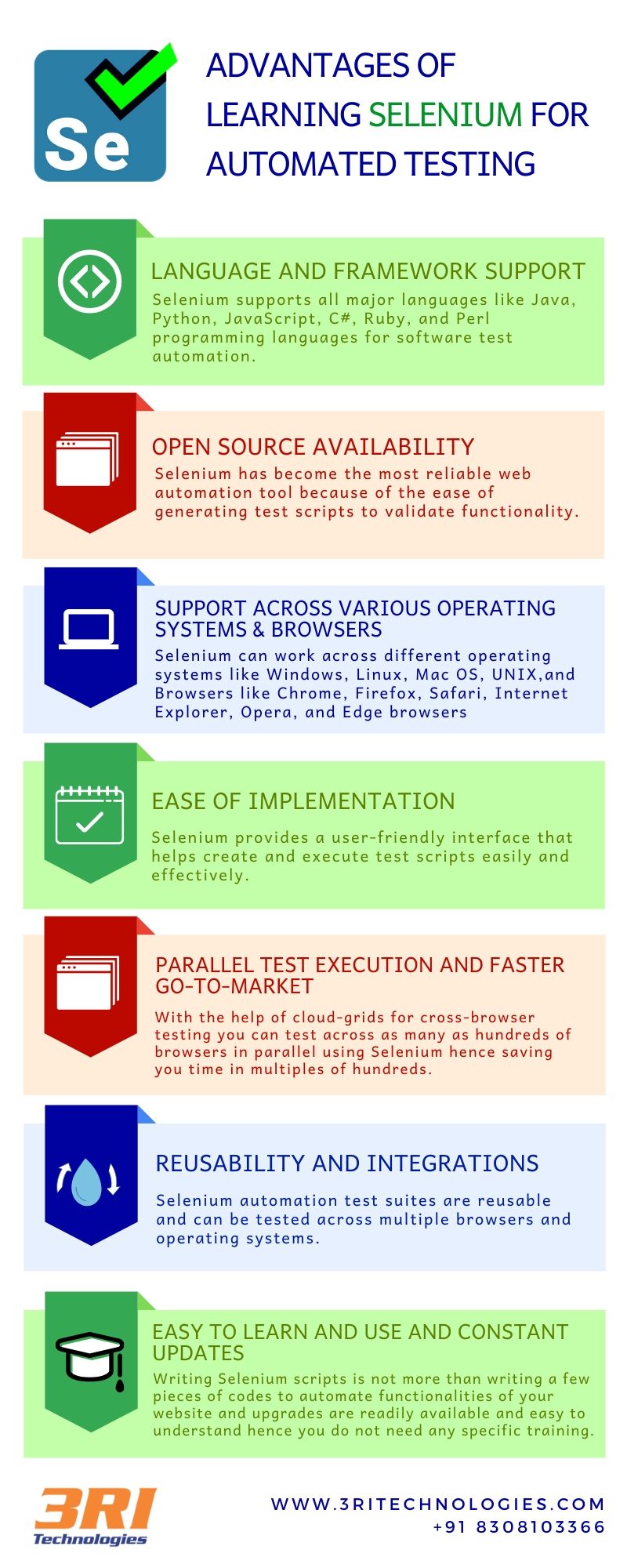 30+ Assignments on Java and Selenium
100 % Placement Assistance
Resume Preparation
Interview Preparation
Missed Sessions Covered
Multiple Batches
Flexible Timings
Live Project Work/Assignments
Inclusion of Java Course
PREREQUISITES:
Candidate should have basic knowledge of Manual Testing.
Basic Knowledge of Java can be advantageous
DURATION:
8 Weeks(Weekday Batch)
9 Weekends(Weekend Batch)
WHO CAN JOIN THIS COURSE?
Freshers or Graduates
Manual testers who want to switch to Automation Testing
Test Lead , Managers and Software Developers
1. Overview of Java
OOP's, Data Types and Variables
Operators, Control Structures
Strings, Arrays
2. Objects and Classes
Object, Classes, and Methods
Method Overloading
Constructors
3. Inheritance
Types of Inheritance
Method Overriding
Dynamic method dispatch
4. Packages and Interfaces
Defining Packages
Extending Interfaces
5. Exception Handling
Fundamentals of Exception Handling
Exception types
Try and Catch and finally
Multiple Catch
6. Input and Output in Java
File handling
Fetching data from Property File
How to use excel data with Apache POI Jars
Working with Excel
7. Collections Framework
Collection Interfaces and Classes
List, Set, HashSet, Iterator, other Classes
1. Introduction to Automation Testing
What is Automation Testing?
Which Test Cases to Automate?
Different Automation tools
Automation challenges & Mitigations
2. Introduction to selenium
What is selenium?
History and various versions of selenium
Advantages of using Selenium over other tools.
Selenium components
3. Selenium-IDE
Introduction
IDE Features
Building & Running Test Cases
Building and Running Test Suites
4. Selenium Web Driver 3.0
Why Selenium Web Driver
What is a Driver
Automation Setup for Selenium Web Driver
Configuration of Selenium Jar using Eclipse
5. Identification of Locators
Tools to identify elements/objects
Setup for Firebug, Firepath
Different methods of finding element
By ID, By name, class
By Xpath, By Tag name
By Link text
By CSS
Using Effective X-path
6. Selenium Commands
Various types of operation that can be performed on any elements and how to use them.
Browser Commands, Navigation Commands
Working with different browser
Handling Checkbox, RadioButton
Dropdown and Select Operations
Handling Keyboard Event and Mouse Event
Alert & Pop Up Handling
Handling iFrame/Frame
Multiple Window Handling
Capturing Screenshots
7. Handling WebTables
What is WebTables
Extracting values from WebTables
Static and Dynamic WebTables
8. Wait Commands in Selenium
Implicit Wait
Explicit Waits,Expected Conditions
1. Framework Designing
What is Framework
What is a Framework?
Different Types of Framework.
How to Design a framework?
Data Driven Framework using Excel

Downloading and configuration of Apache POI
Executing Testcases from Excel
2. TestNG Framework
Test NG & TestNG features
How to use TestNG and Junit in Selenium
Advantages of TestNG over Junit
How to integrate TestNG with Eclipse
Test NG Annotations
TestNG Reporting
3. POM Framework
Advantages of POM
How to implement
Using Page Object and Page Factory
4. Selenium Integration with Maven
How to create a maven project in Eclipse
Maven Build Cycles.
How to compile and Run tests using Maven
5. Cucumber Framework
What is BDD
Cucumber implements BDD
Preparing Features File
Writing a step definition
Writing Runner Class
Given, When, Then, And, But annotations and usage in features class
Passing parameters in Step Functions
Using regular expression in step
Parameterize complete scenario using features class
Datatable in Cucumber and its implementation
Using Assertions to report failure
Running simple feature/Step scenario
Building a simple test case
Executing project from eclipse
Generating Cucumber reports
Background and Pending Exception
Parameterizing/repeating test cases from feature classes
6. Continuous Build Integration tools- Jenkins
What is Jenkins and how to use it
How to integrate Jenkins with Eclipse
Assignments on each topic in Java and Selenium
POC projects on Framework like POM, Cucumber
Hands-on Experience on Industry Project
Mock Tests & Interview Tips