Web Development in Python Training in Pune
Web Development in Python Training in Pune
Introduction of Web Development with Python Course
Web designing is the crucial point for creating, designing, operating, and conceptualizing a website application programming interfaces for the website. And we all know that today many new businesses are coming in demand which certainly is in creating some different kinds of websites for their business. Webs development is a theory that includes all the deeds with mobile development, websites, and web applications.
But why Python?
Python is an open-source, easy-to-learn language. It is an object-oriented, new-gen language and, most importantly, a high-level programming language. It used for developing and designing desktop applications, mobile phone applications, GUI applications, and website applications. It focuses on core behavior and the purpose of the whole programming functions.
Being the common pick for the beginners, it is still very sturdy to back many of the popular applications from industries – Google, NASA, IBM, Microsoft, and many more. It is resulting in making Python one of the best languages when it comes to website development. It provides many well-known frameworks like Django, Pyramid, web2py, Flask, and more. Using these frameworks, some of the well-renowned applications developed.
1. Django framework: Django is one of the most popular frameworks used by many industries as it is a Python-based open-source website framework. It follows the pattern of the model template view architecture.  Its main agenda is to guide the implementation of complex, database operating websites.
2. Pyramid: Compatible with Python, Pyramid is one of the most used frameworks when it comes to developing a website application. It makes the easy development of web pages using this framework. This framework implements the skills that a coder can improve and prolong. Using this framework, you need to just focus on the factors that your website is to develop in.
Overview

Features

Syllabus

FAQ
What is Python Web Development?
Python is an object-oriented, high-level programming language, a rendered with dynamic interpretations. It is one of the most popular languages because of its high-level built-in data structure, which is integrated with a dynamic binding & dynamic typing. That adds a point to this language, making it engaging for all types of website applications. Python is very easy to understand, learn, and grasp. As the syntax, functions, and overall, the language is quite readable, which indeed overcomes the cost of program resources. The standard libraries and interpreters are available in the binary or source form, which can be easily shared or distributed.
Python is the most famous and used to advance server-side website applications. The combination of Python & JavaScript is the most popular amongst the developers which developing a new website application. JavaScript is always downloaded to the clients & managed by the browser, whereas Python is executed at the server-side.
In addition to this, Python offers all the best frameworks to work with when it comes to developing a web application. Frameworks like Django, Flask, Pyramid, web2py, and many more which are way too easy to implement and understand. The frameworks are secure, fast, and can be easily implemented. All these frameworks are well-known as they are being used in developing many known applications like Mozilla, Yelp, Spotify, etc. Coding with Python is simpler and understood by anyone as its syntax is simple. It has its own debugger, which is known as Python Debugger (PDB). The documentation of PDB is so well maintained and is very easy to understand, even from the beginner's point of view.
Overall, Python is the language you should go for when you are planning to develop a website application as you can build your functions with fewer lines of codes.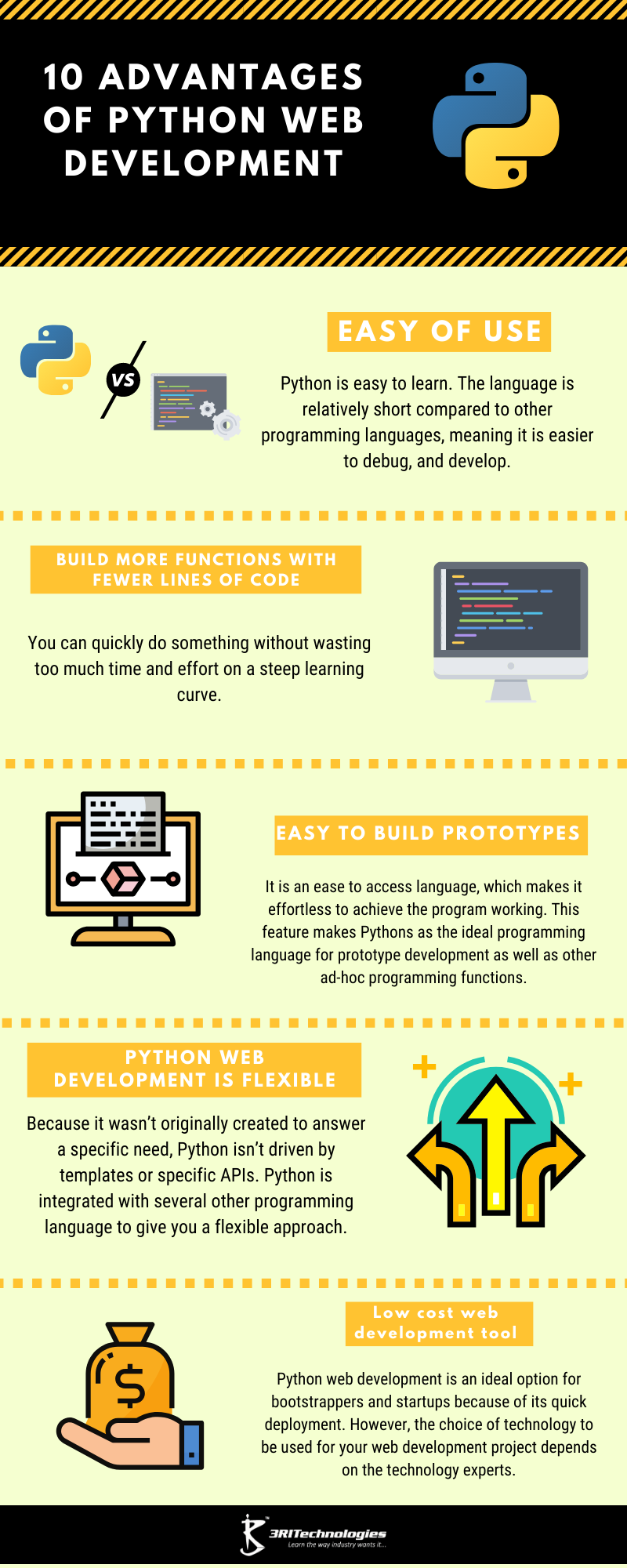 Why learn web development with Python?
Python is a high-level, object-oriented programming language with integrated dynamic exposition originally for application development and website development. It offers valid binding and effective typing options in the field of any application development. It is sincere to learn as it provides all readable and straightforward syntax. Hence, developers can translate and read the code easily as compared with other programming languages. Also, this results in less cost of program maintenance and development.
Python makes use of packages, interfaces, and modules, which makes coding easier and implement steps. That means programs can be developed based on the design, and the code can be reused in different projects as well. All the standard libraries, interpreters are available for free on the Internet, in both source and binary form.
Why Python for Web Development?
1. Easy amongst all:
Python is very easy to understand and learn because of its simple language use with straightforward syntax.
2. Less Coding Required:
Using Python, you can develop more and more functions in less number of coding lines. Because of its readability and efficiency property, Python is the best option for Website Development.
3. Many useful Frameworks:
There are many spectacular frameworks in Python, like Django, Flask, Pyramid, etc., which are the best frameworks when you need to develop a website. It becomes effortless, secure, and fast to develop a website using these frameworks with Python.
4. Trusted by Top Industries:
Industries like Instagram, Dropbox, Pinterest, and many top website development organizations prefer using Python and its frameworks for web development. Because of this, Python is more in demand when it comes to Python with Website development.
5. Saves Time:
Website development with Python is fast, secure, and easy. It is used for easy coding projects, modules, prototypes, or plans on a budget with short deadlines.
Why Choose 3RI?
Web development with Python course provides you a full guide of object-oriented, high-level programming using python. You will get to work under many different servers, frameworks, and databases. At 3RI Technologies, our trainers will help to start with the basics of Python and make you experts in it. With proper practical, theory lectures, and practice sessions, we will help you in getting 100% knowledge in this course period. Here are a few terms, you can go through so that it becomes easier for you to choose 3RI technologies for your Web Development with python course.
100% Placement Assistance
At 3RI, we provide 100% job assurance to all our students. Every year almost 95% of students have been placed from our institute in top MNC companies. Complete knowledge and guidance are provided to all the students with proper lectures, tests, exams, and practical's.
Job-oriented Course Plan
This course is designed as per present industrial requirements in web development with Python. We will help you with an overview of all the necessary frameworks and modules. You will also have hands-on experience in it.
Our Outline
3RI Technologies believes in providing flexibility to all the students who are willing to learn these courses as per their time slot. There are weekdays and weekend batches available for all. You can select the batch, which is convenient for you.
Certification Course
After completion of the course, there will be an exam conducted on the syllabus covered. With the performance in those exams, you will be provided with the certificate for it, by 3RI Technologies.
 1. Introduction to Python 
Why Python , its Unique Feature and where to use it?

Python environment Setup

Discuss about IDE's like IDLE, PyCharm and Enthought Canopy

Start programming on interactive shell. 

Python Identifiers, Keywords

Discussion about installed module s and packages 

Access Command line arguments within programs
2. Conditional Statement, Loops and File Handling
Python Data Types and Variable

Condition and Loops in Python

Decorators 

Python Modules & Packages

Python Files and Directories manipulations

Use various files and directory functions for OS operations
3. Python Core Objects and Functions
Built in modules (Library Functions)

Numeric and Math's Module

String/List/Dictionaries/Tuple

Complex Data structures in Python

Arbitrary data types and their Data Structure

Python built in function

Python user defined functions

Python packages and functions

The anonymous Functions - Lambda Functions
4. Object Oriented Python
OOPs Concepts

Object , Classes and Destroying Objects

Accessing attributes, Built-In Class Attributes

Inheritance and Polymorphism

Overriding Methods, Data Hiding

Overloading Operators
5. Exception Handling in Python
Exceptions Handling

Handling various exceptions using try....except...else 

Try-finally clause

Argument of an Exception and create self exception class

Python Standard Exceptions

Raising an exceptions, User-Defined Exceptions  
6. Debugging Python Programs
Debug Python programs using pdb debugger

Assert for debugging 

Testing with Python using UnitTest

Iterable and generator in Python

Yielding from the generators

Standard project setup in Python
7. Regular Expression
Regular Expressions

What are regular expressions?

The match and search Function

Compile and matching

Matching vs searching

Search and Replace feature using RE

Extended Regular Expressions

Wildcard characters and work with them
8. Package Installation and Windows spreadsheet parsing 
What is pip, easy install?  

Set up the environment to install packages?

Install packages for XLS interface, Database Interface and Web interface

XML and XLS parsing with Python

Create XLS reports with Python
1. HTML
Introduction and Basic Structure of HTML

Basics, Elements, Attributes

Paragraphs and Formatting

HTML Skeleton, Links, Images

HTML Tables, Blocks

HTML Lists, Quick List

HTML Blocks

HTML Layouts & Forms, IFrames

HTML Colors
2. CSS
Introduction

Syntax

Id & Class

Backgrounds

Text and Fonts

Links and Lists

Box Model

Advanced Topics

Dimensions, Display

Positioning, Floating

Align
3. JavaScript
Introduction

Statements & Comments

Variables

Operators and Comparisons

Conditional Statements and Loops

User Defined Functions

JS Objects

JS Validations
 4. Bootstrap
What is Bootstrap and its Setup
How to Create a Layout in Bootstrap
Basic Tags in Bootstrap

Contextual colors and backgrounds

Table in Bootstrap

Bootstrap Basic Tables

Striped Rows, Hover Rows

Bordered Table, Condensed Table

Responsive Tables

Navigation bar in Bootstrap

Inverted Navigation Bar

Fixed Navigation Bar

Navigation Bar with Dropdown

Right-aligned Navigation Bar

Collapsing the Navigation Bar

Form & Buttons in Bootstrap

Vertical Form

Horizontal Form

Inline Form

Block Level Buttons

Active/Disabled Button
Web Based Python Framework
1. Django Framework
Introduction to Django

How to create Django App

Url Mapping

Templates

Introduction to static file

Django Model Overview

Creating model

Model template view creation

Django forms and validation

Relative Url with Template
2. Interacting with a Database: Models
Overview of Models, 

Creating Models

Configuring the Database

Your First App

Using Django with MySQL.

Population Scripts

Models-Templates-Views Paradigm

Inserting and Updating Data

Selecting Objects

Deleting Objects
3. The Django Administration Site
Activating the Admin Interface

Using the Admin Interface 

Users, Groups, and Permissions
4. Views and Templates
URL Template Inheritance 

Template Inheritance Coding Example 

Quick Note on Custom Template Filters

Template Filters and Custom Filters 

Template Filters Coding Examples

Django Passwords 

Deploying Django Framework
5. Form Processing 
Django Forms

Form Validation

Model Forms

Relative URLs with Templates 

Relative URLs Coding Examples

 
Database Handling with Python
1. Python MySQL Database Access
Create Database Connection

DML and DDL Operations with Databases

Performing Transactions

Handling Database Errors

Disconnecting Database
2. Database Handling with NoSQL DB
SQL vs NoSQL

MongoDB

PyMongo

Establishing a Connection

Accessing Database

DML and DDL Operations
Project Work
User Login and Registration site

Create an online Test evaluation system for Institute

Building an E-commerce site in Django