Reasons To Build DevOps Career In 2020
DevOps is the next big thing in the IT environment now. What makes DevOps adaptable and embracing by all big business organizations is the fact that it facilitates and enables faster & quicker release cycles, more rapid and swift time to market, continuous and ongoing integration and deployment with ease. If you also want to take your career to the next level, then DevOps Interview Questions and Answers will help you to crack interviews. Over time and period, DevOps has evolved with its containers and microservices as taking center stage.
As per a report by Gartner in 2015, it predicted that DevOps practice and strategy would magnify and evolve from the common niche to a mainstream IT strategy and enterprise-wide adaptable choice.
Gartner Says By 2016, DevOps Will Evolve From a Niche to a Mainstream Strategy Employed by 25 Percent of Global 2000 Organizations
Is DevOps a good career?
With so much popularity gained, DevOps has now become the most adopted and standard ethics of working for business organizations. What's more, many of the most prominent enterprises are keen to shift to DevOps practices that have increased the percentage of organizations using DevOps from 66% to 74% in just one year from 2016 to 2017.
What's best about DevOps practice is that it stemmed out from the Agile Methodology, which further facilitates and enables the business organizations with continuous and ongoing delivery, continuous integration, and, most importantly the continuous deployment. This whole process of DevOps practice and strategy aids the business to quickly identify and recognize the bug and carefully plugging the gaps and faults wherever required.
If you love to learn and are more interested in the process than the product, a career as a DevOps engineer may be appropriate for you. Working in this area can be extremely satisfactory, as it provides you with the ability to integrate advanced technologies that can help your company do business more efficiently. If you are curious about what DevOps engineers do and how to become one, take the next step and explore how you can help you to the skills you need to succeed in your career.
DevOps is a complex practice that involves many areas. Development is one area that DevOps engineers can benefit from constantly noticing and paying attention to as it evolves, as changes and improvements to the software development tools can help improve the projects they are working on. Since they regularly work with a variety of internal teams, including product managers, product owners, and other team members, understanding their individual roles and objectives is key to fruitful collaboration and future success. Once you have explored the major areas associated with Dev Ops Engineering, you should take the time to invest in other aspects of your career that will make you stronger in it. Being on top of these areas will give you a strong foundation in the development process and a better understanding of the business process.
DevOps engineers possess the following steps to prepare for a career in DevOps-
learn the most in-demand skills, the tools and technologies you need to master, and the measures that a certificate can show employers. Depending on the size of your software organization and your goals, a pipeline, and its stages can vary greatly from one DevOps store to the next. The conveyor belt typically begins with automated software assembly, then moves on to automated testing, and finally to continuous integration and deployment.
DevOps Salary
Forbes recently reported that highly qualified DevOps specialists earned an average salary of $106,734
According to Payscale Average Development Operations (DevOps) Engineer Salary in India is ₹671,228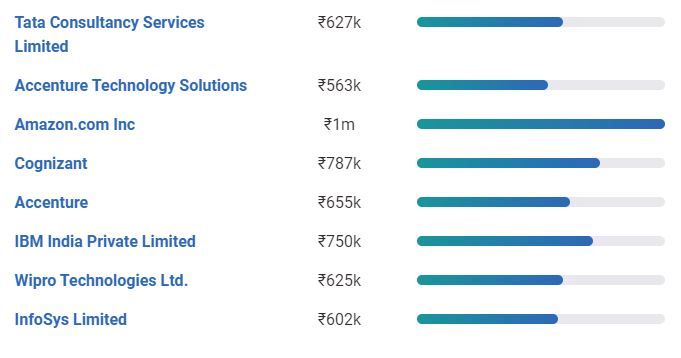 Career Opportunities in DevOps-
The word DevOps is a fusion of development and operation. In the world of information technology (IT), this is defined as a modern strategy used by software vendors to solve software delivery problems. DevOps bridges the gap between development and operations teams through a collaborative approach to the tasks they perform. It allows companies to develop and publish resources with continuous feedback quickly. This technique improves the overall efficiency of communication between teams and increases the speed of software delivery.
There is also a trending term in the same domain that is DevOps unicorns. The big organizations that have leveraged DevOps as their main working strategies such as-
Amazon
Google
LinkedIn
Etsy
Walmart
Adobe
Facebook
As all of the DevOps strategies are based on and aimed to achieve automation, it assists the businesses with automated testing, integration, deployment, server built up, configuration management cycle, and the whole delivery pipeline process.
DevOps Job Roles
Application Developer
System Admin
Security Engineer
Automation Engineer
Integration Specialist
One of the biggest benefits of DevOps practice is that it enables the identification of the bugs and faults at a faster scale which further results in an increased frequency and efficiency for the code to release the cycle. With an overall increased efficiency in the working module of the business enterprises, it would be no doubt to say that DevOps is here to stay in the long run.
Network operations engineers and database administrators can make the most of their experience to continue their careers in DevOps. People with experience in technology can have a great opportunity to become DevOps engineers. However, people who are starting their careers in DevOps after just earning a degree in computer science still have much to learn.
So, for a DevOps career, you need to improve your knowledge and skills in automation. DevOps professionals who can use automation tools to manage servers and servers are employers' preferred choice.
If you are thinking about building a career in the ever-growing and ever-developing world of the Information & Technology sector, one of the best ways is to get yourself enrolled in one of the training institutes that offer DevOps training. DevOps Training in Pune at 3RI Technologies, we offer the best of class environment that is based and formulated on the latest trends and innovations adopted and trending in the industry. You will surely reach new heights of success with the DevOps in your career path! Join Online DevOps Training.
Related blogs: