how to search for jobs in LinkedIn?
Table of Contents
How to Decide a Goal?
How to write Articles and involvements in discussions?
How to choose the right training, to reach a decided goal?
What should be the takeaways/learnings from the training?
What to avoid while selecting the right training institute?
How to search for jobs on LinkedIn?
How to find saved jobs on LinkedIn?
How to get a job through LinkedIn?
How to Decide a Goal?
When we say deciding a Goal, it means your career goal. For example, if you are a fresher and looking after a few big profiles in IT, you get inspired by a few of them and want to become like one of them.
The important thing that you must do when planning something big is
Take a pen and paper and on the left side of the paper write down all the dream roles you want to achieve.
Now try to understand the prerequisites/skills needed to reach that dream role. Note them in the paper.
Also, write down your existing skills.
Now, it is simple if you want to reach A, you need a skillset as B, and currently, you are at C.
So you need to do B-C. This will tell you all the knowledge and skillset that you need to inject in your candidature to reach A.
Example:
Dream Role: I want to become a Data Scientist in BFSI Domain
Skills Required:
Excellent Python Programming Language.
Strong Mathematical Statistics Knowledge.
Machine Learning hands-on Knowledge. You must at least have worked on two projects. Your knowledge should be strong enough that you should be comfortable talking about the different modules of the given project.
Strong communication and convincing skills.
Strong will power and analytical skills.
If you are a fresher BE / BTech from a B grade Engineering College, the candidate probably has the below skills.
Basic knowledge in any Programming Language
Basic knowledge  in DBMS or Mathematical statistics
Average communication skill
So, ideally, a fresher should not copy directly from their friend's resume of their college. They need to do analysis and finalize their career goal, by looking at the feasibility to reach there. In this case, the candidate should join a training institute that offers a holistically developed curriculum for Data Science. They should start focussing on learning the technology instead of looking for jobs on priority.
In my opinion, for any human, learning a new technology or skill, must create a vocabulary for it, establish yourself in the technology, and start justifying your knowledge in the interview. It should ideally take 90-100 days to get prepared.
How to write Articles and involvements in discussions?
In today's world "Content is the King", as much content you can write on your own and publish. By this, you can attract several connections and people in your surroundings.
Also, let us understand that there is no fresh content available in the world. The maximum content is already available on the web. We only need to read a few articles on a topic, make few bullet points, and write the article in your language. it needs little practice but it is not difficult.
You should simultaneously start writing small articles on the technology or the most searchable topics on LinkedIn. Tag your connections and friends to make the article easily seen among your connections and other people on LinkedIn.
Try to actively participate in the articles you like and share your comments and your opinion. Your honest opinion makes you relevant to someone.
The moment you start participating actively, you will be in the eyes of so many people and eventually, your profile will get more visibility. If many people see your profile better are the chances that you will get the right job opportunity.
The more you will get connections with the HR and Hiring authority in your local vicinity companies, there will be more chances of your hiring that will be done directly from LinkedIn.
Also, you can subscribe for specific job profile notifications on your email id.
How to select the right training program, to reach a decided goal?
Choose the training program and not the training Institute.
Your Training curriculum should have B-C, meant to say the majority of the portion missing in your candidature should be there in the training.
Training should have an elaborated and well-designed syllabus.
The syllabus should be the latest and in-line with the industry trends.
There can be two orientations of training

Knowledge b) Global Certification

Choose the training by keeping your goal in mind, in case of fresher's, knowledge comes first and then certification value.
The training should not be of more than 3-4 months.
What should be the takeaways/learnings from the training?
The training should have the below takeaways
Communication Skills
Aptitude
Placement Calls Guarantee is a wrong expectation set from any educational institute. They can be committed to providing you the Quality training and placement calls, but at the last, it is you who is going to prove your candidature in the interview.
Counselor, or an experienced staff who can guide you when required.
Resume Creation.
Guidance and motivation while working on Projects. This will give you insights into real-time scenario examples.
For any technology training, if it has 2 parts, i.e. Basic and Advanced, then ensure that the Advanced course is delivered by some senior faculty to get more hands-on knowledge. A senior faculty will help you in gaining more knowledgeable stuff and different aspect of industry trends.
In my opinion, the last criterion should be price, the training fees should be affordable enough so that you don't need to take an education loan for it.
What things needed to be kept away while choosing the right training institute?
Take care of the below things while choosing the right training institute.
If the institute is charging for placements, then they should be avoided.
If the institute says, half of the payment of fees before the training and half of the fees you can pay after placement. This can be a false commitment, which simply means the institute has already taken training fees from you. Now the placement calls they are providing you are as normal as any other training institute will provide. After getting placement calls there will be two things, either you get selected or rejected. If you will get selected, the institute will charge you the rest half of the fees without any investment. In case if you are rejected you will never complain to the institute because you saved half of the fees. In both cases, you are cheated. It simply implies that if you are selected by paying money, this can be done by any placement consultants. Even if rejected you will not criticize or complain against that institute because you have a feeling of saving half of the course fees.
If we think wisely, the objective of this complete training is to get a job, not to get a false commitment or job guarantee from a training institute, or save half of the training cost.
Don't go to the institutes that are getting you to sign a bond or a contract with them.
Don't submit your original documents to any institute.
Don't sign any document without reading it carefully.
Don't hesitate to clear all your doubts beforehand.
Don't get into the inferior feeling and enroll in the wrong course, because someone is forcing you or offering huge discounts on the training.
How to search for jobs on LinkedIn?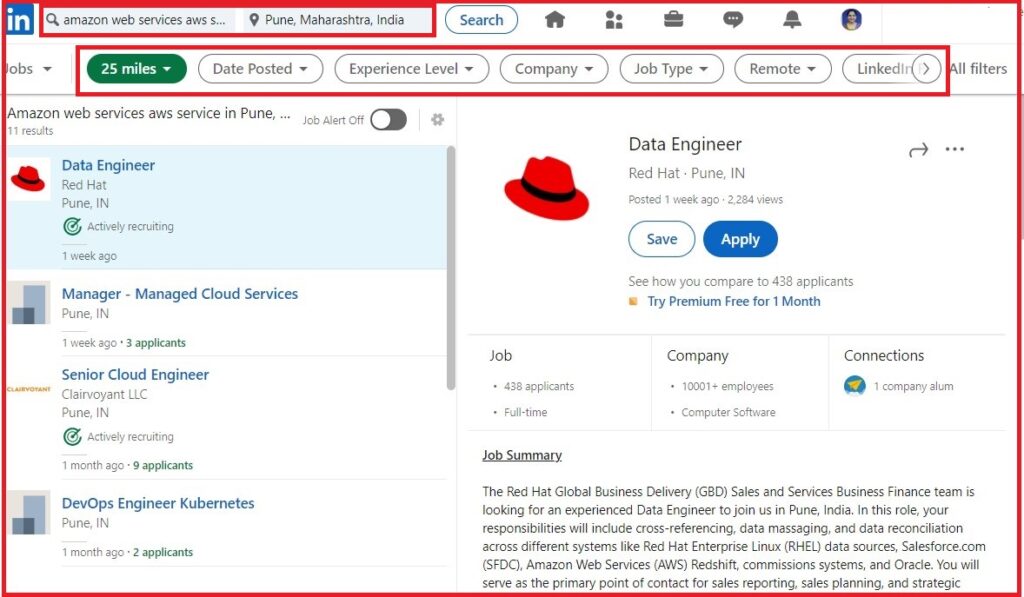 LinkedIn is one of the best Search engines that can be used effectively to search for a new opportunity in a career. It is really simple to search for a job opening on LinkedIn that suits your expectations.
Follow the below steps to answer your question about how to find jobs on LinkedIn.
Firstly, go to the job tab that is present in your LinkedIn profile. Once you click on the same, you can see several job opportunities on your screen.
Now the next step is to find the dream job that you have been looking for. For this, you may type the relevant job description that you are trying to search for. It will show you available job opportunities across the globe. But as you might be searching for a job in a particular location, you may enter your desired location in the next tab beside it.
Say, for example, you are searching for an opening for "Amazon Web Services", then type the location as Maharashtra, if you wish to get a job in Maharashtra. You can also be more specific by typing in the name of the city where you want to work.
The left pane of the search results will give you the list of job openings in Pune city as seen in the above picture. The right pane will show you a brief description of the job profile that you select in the left pane of the window.
Now there are several Advanced filter options available to you for more refined searches. I have mentioned below the filter options available to you.
Exact location: This filter is used to specify the radius of distance till which you are looking for a job in an organization. Say, for example, if you select it as 25 miles, it implies you are looking for a company within 25 miles of radius from your home.
Date posted: This filter is used to select a range within which the job was posted on LinkedIn. This filter is used to select recently posted jobs. Say, for example, if you select Pay 24 hours, it will give you all the relevant jobs available to you that have been posted in the last 24 hours.
Experience level: This filter is used to select the time for which the candidate has been working. Say, for example, if you are a fresher, and looking for a job, you will select it as Entry level from the drop-down list.
Company: This filter is to select the name of companies for which you are looking job. Say, for example, if you select Red Hat, it will only show job opening of company Red Hat that matches your other search criteria. You can also select multiple companies for more job opportunities.
Job Type: This filter is used to select whether you are looking for Full-time, Part-time jobs. Say, for example, if you select Full-time options it will show appropriate job options.
Remote: This type of filter is used to show the job opportunities which can be done from the remote location. This option has been of great use in this pandemic when people are looking for work from home option to keep social distancing and keep the virus at bay.
LinkedIn Features: This filter is used to select an option that can be used to select only those jobs that can be directly applied through LinkedIn or has less than 10 applicants applied for the same position or those jb openings are from your network. Say, for example, you want to apply only through LinkedIn, then in the job description pane, you will find the button " Easy Apply".
These are advanced filter options available to each candidate searching for a job. This will make the search refine and definite.
So hopefully the above points must have clarified your doubts regarding How to use LinkedIn for job search.
How to find saved jobs on LinkedIn?
LinkedIn gives an option to its user to save a job for later use. This feature will make it easier for every candidate to search for a job and save it so that an applicant can apply for its application later.
While searching for a job on LinkedIn, you will find an option "Save" in the right pane that briefly describes the job profile. Once you click this Save button, this job is saved for later use.
Once the job is saved, it can be viewed in the "My Jobs" tab on the Jobs page on LinkedIn
In the same tab, you will be able to see the jobs for which you have already applied through LinkedIn.
How to get a job through LinkedIn?

The above topics can be used to answer your question" How to find recruiters on LinkedIn" If used effectively, it can be used to search for your dream job that suits your requirements. Now once you search for a job and find the one that suits you, the next step is to apply for those jobs.
LinkedIn provides two ways to apply for these jobs.  Below I will be discussing these two ways available to you as a LinkedIn user.
This button will be used to apply for jobs through an external website through which you can apply for the job. On external websites, you can create your new profiles specific to the job title. To save your time use the profile created you have created in LinkedIn to apply for the job through these external websites.
Using the "Easy Apply" button 
This button is used to apply to jobs using the internal LinkedIn website. This saves a lot of your time as you need no extra time to create your profile. Moreover, the employer will be able to see the recommendations that you might have received from your colleagues. Also, they will be able to quickly see your Skills too. This increases your chances of recruitment.
Related blogs